Echo of Holmfir
12th March 1948
Page 31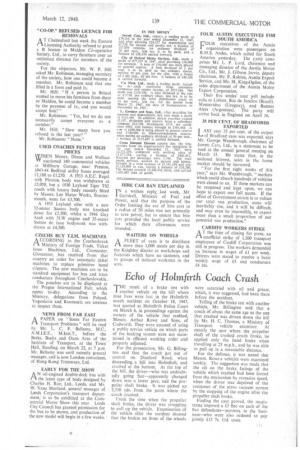 Page 31, 12th March 1948 —
Echo of Holmfir
Close
th Coach Crash
THE result of a brake test with another vehicle on the hill where nine lives were lost in the Holmfirth coach accident on October 18, 1947, was quoted at Hohnfirth Police Court on March 6, in proceedings against the owners of the vehicle that crathed, Messrs. Arthur Rowe and Sons, of Cudworth. They were accused of using a public service vehicle on which parts of the braking system were not maintained in efficient working order and properly adjusted.
For the prosecution, Mr. G. Billington said that the coach got out of control on Dunford Road, when descending, a bill into Hoirnfirth, and crashed at the bottom. At the top of the hill, the driver—who was undoubtedly going fast—apparently changed down into a lower gear, and the propeller shaft broke. It was picked up : 2,330 yds. from the point where the coach crashed.
From the time when the propeller shaft broke, the driver was struggling to pull up the vehicle. Examination of the vehicle after the accident showed that the brakes on three of the wheels were saturated with oil and grease, which, it was suggested, had been there before the accident.
Telling of the brake test with another vehicle, Mr. Billington said that a coach of about the same age as the one that crashed was driven down the hill by Mr. H. C. Thomas, a Ministry of Transport vehicle examiner. At exactly the spot where the propeller shaft of the crashed coach broke, he applied only the handbrake when travelling at 25 m.p.h., and he was able to pull up in a reasonable distance.
For the defence-, it was stated that Messrs. Rowe's vehicles were examined weekly. The suggestion was made that the oil on the brake facings of the vehicle which 'crashed had been forced from the mechanism by excessive speed, when the driver was deprived of the assistance of the servo vacuum system by the stopping of the engine after the propeller shaft broke.
Finding the case proved, the magistrates'imposed a £3 fine on each of the five defendants—partners in the business—who were also ordered to pay jointly 115 7s. 11d. costs.