New Self-adjusting Power Brake r OMPLETELY automatic adjustment
12th March 1948
Page 30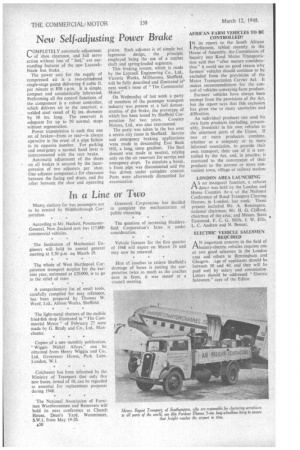 Page 30, 12th March 1948 —
New Self-adjusting Power Brake r OMPLETELY automatic adjustment
Close
of shoe clearance, and full servo action without loss of "feel," are outstanding features of the new LaycockNeale bus brake.
The power unit for the supply of compressed air is a two-cylindered single-stage pump delivering 8 cubic ft. per minute at 850 r.p.m. It is simple, compact and automatically lubricated. Performing all the control functions of the compressor is a robust controller, which delivers air to the reset-Voir, a welded steel vessel of 81 ins, diameter by 30 ins. long. The reservoir is adequate for up to 50 normal stops without regeneration.
Power transmission is such that one set of brakes—front or rear—is always operative in the event of a pipe failure in its opposite number. For parking and emergency a normal hand lever is interconnected with the rear brake.
Automatic adjustment of the shoes on all brakes is secured by the incorporation of two adjusters per shoe. One adjuster compensat..s for clearance between the facing and drum, and the other between the shoe and operating piston. Each adjuster is of simple but ingenious design, the principle employed being the use of a ratchet shaft and spring-loaded segments.
This braking system, which is made by the Laycock Engineering Co., Ltd., Victoria Works, Millhouses, Sheffield, will be fully described and illustrated in next week's issue of "The Commercial Motor."
On Wednesday of last week a party of members of the passenger transport industry was present at a full demonstration of the brake, the prototype of which has been tested by Sheffield Corporation for two years. Crossley Motors, Ltd., was also represented.
The party was taken in the bus over a severe city route in Sheffield. Service and emergency braking applications were made in descending East Bank Hill, a long, steep gradient. The final descent was made in neutral, relying only on the air reservoir for service, and emergency stops. To simulate a break, a front pipe was disconnected and the bus driven -under complete control. Parts were afterwards dismantled for examination.