In a Line
12th March 1948
Page 30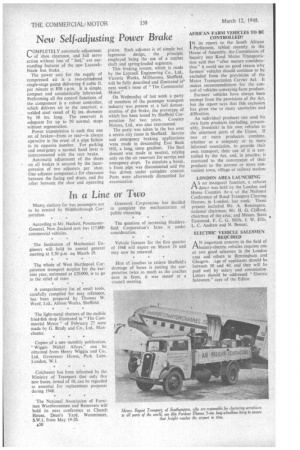 Page 30, 12th March 1948 —
In a Line
Close
or Two
Ninety shelters for bus passengers are to be erected by Middlesbrough Cor poration.
According to Mr. Hackett, PostmasterGeneral, New Zealand now has 117,000 commercial vehicles.
' The Institution of Mechanical Engineers will hold its annual general meeting at 5.30 p.m on March 19.
The whole of West Hartlepool Corporation transport surplus for the current year, estimated at £20,000, is to go to the relief of rates A comprehensive list of small tools, carefully compiled for easy reference. has been prepared by Thomas W. Ward, Ltd., Albion Works, Sheffield.
The light-metal shutters of the mobile fried-fish shop illustrated in "The Commercial Motor" of February 27 were made by G. Brady and Co., Ltd., Manchester.
Copies of a now monthly publication, Wiggin Nickel Alloys," can be obtained from Henry Wiggin and Co.. Ltd, Grosvenor House, Park Lane, London, W.1.
Cokhester has been informed by the Ministry of Transport that only five new buses, intead of 10, can be regardedas essential for replacement purposes during 1948, 'The National' Association of Furniture Warehousemen and Removers will hold its next conference at Church House, Dean's Yard, Westminstei, S.W.1, from May 19-20.
e30 Greenock Corporation has decided to complete the mechanization of public cleansing.
The question of increasing Huddersfield Corporation's fares is under consideration.
Vehicle licences for the first quarter of 1948 will expire on March 24 and may now be renewed.
Hire of coaches to relieve Sheffield's shortage of buses is costing the corporation twice as much as the coaches earn in fares, it was stated at a council meeting.