AFRICAN FARM VEHICLES TO BE CONTROLLED?
12th March 1948
Page 30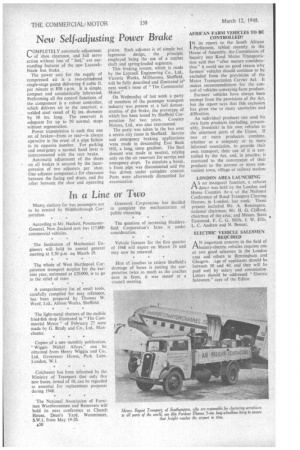 Page 31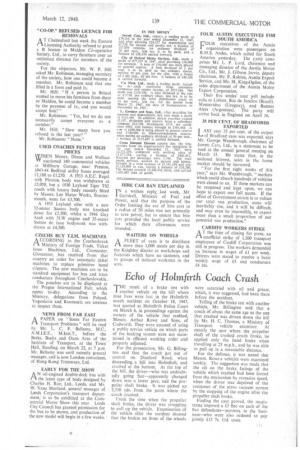 Page 30, 12th March 1948 —
AFRICAN FARM VEHICLES TO BE CONTROLLED?
Close
Keywords :
Local Government In England
,
Counties Of England
,
Manufacturing
,
Car Manufacturers
,
Dearborn, Michigan
,
Ford Motor Company
,
Manganese Bronze Holdings
,
Electric Vehicle
,
Arab
,
Leeds
,
Austin Motor Company
,
Business / Finance
I N its report to the South African Parliament, tabled recently in the House of Assembly, the Commission of Inquiry into Road Motor Transportation said that "after mature consideration" it could see no good reason why farmers' vehicles should continue to be excluded from the provisions of the Motor Transportation Carrier Act. It makes recommendations for the control of vehicles conveying farm produce.
Farmers' vehicles have always been exempt from the provisions of the Act, but the report says that this exclusion has given rise to many anomalies and difficulties.
An individual producer can send his own farm products (including, presumably, livestock) in his own vehicles to the uttermost parts of the Union. If two or more producers combine, whether as a company or in more informal association, to provide their own transport, their use of it is controlled by the Act, and, in practke, is restricted to the conveyance of their products to the nearest or more convenient town, village or railway station:
LONDON AREA LAUNCHING
As an inaugural function, a cabaret dance. was held by the London and Home Counties Ar:a ui the' National Conference of Road Transport Clearing Houses, in Landon, last week. Those present included Mr. A. Rossington. national chairman; Mr. H. G. Clifford, chairman of the area; and Messrs. Steve Eastmead, F. C. Ci. Mills, J. W. Ellis, L. C. Andrew and N. Bennet.
ELECTRIC VEHICLE SALESMEN REQUIRED
AN important concern in the field of battery-electric vehicles requires 'one or two good salesmen in the London area and others in Birmingham and Glasgow. Age of applicants should be between 30 and 40, and they will be paid well by salary and commission. Letters should be addressed "Electric Salesmen," care of the Editor.
'CO-OP." REFUSED LICENCE FOR REMOVALS
AT Chelmsford last week the Eastern Licensing Authority refused to grant a B licence to Maldon CO-operative Society, Ltd , to carry furniture over an unlimited distance for members of the society.
For the objectors, Mr. W. P. Hill asked Mr. Robinson, managing secretary of the society, how one could become a member. Mr. Robinson said that one tilled in a form and paid Is.
Mr. Hill: "If a person in Bristol wanted to move his furniture from there to Maldon, he could become a member by the payment of Is., and you would accept him? "
Mr. Robinson: "Yes, but we do not necessarily accept everyone as a member."
Mr. Hill: "How many have you refused in the last year?"
Mr. Robinson: "None."
USED COACHES FETCH HIGH PRICES WHEN Messrs. Dixon and Wallace VI' auctioned 140 commercial vehicles at Millburn Garage, near Preston, 1.943-44 Bedford utility buses averaged 11,100 to 11,250. A 1933 A.E.C. Regal with Plaxton body was withdrawn at 12,050, but a 1930 Leyland Tiger TS2 coach with luxury body recently fitted by Messrs. Lee Motor Works, Bournemouth, went for £3,700.
A 1935 Leyland oiler with a new 32-seater Santos body was knocked down for £3,500, whilst a 1946 Guy Arab with 5LW engine and 32-seater Santos de luxe bodywork was withdrawn at 14,300.
CZECHS BUY T.I.M. MACHINES
ACCORDTNG to the Czechoslovak Ministry of Foreign Trade, Ticket Issue Machines, Ltd., Cirencester, Gloucester, has received from that country an order for automatic ticket machines to replace primitive hand clippers. The new machines are to be standard equipment for bus and train conductors throughout Czechoslovakia.
The punches are to be displayed at the Prague International Fair, which opens to-day. According to the Ministry, delegations from Poland, Yugoslavia and Roumania are anxious to inspect them.
NEWS FROM FAR EAST
PAA PAPER on "Some Far Eastern Transport Problems" will be read by Mr. L. C. F. Bellamy, M.C., A.M.I.E.E., M.Inst.T., before the Berta, Bucks and Oxon, Area of the Institute of Transport, at the Town Hall, Reading, on March 22, at 7 p.m. Mr. Bellamy was until recently general manager, and is now London consultant, of Hong Kong Tramways, Ltd,
EARLY FOR THE SHOW
AN oil-engined double-deck bus with the latest type of body designed by Charles H. Roe, Ltd., Leeds, and Mr. W. Vane Morland, general manager of Leeds Corporation's transport department; is to be exhibited at the Commercial Motor Show this year. Leeds City Council has granted permission for the bus to be shown, and production of the new model will begin in a few weeks.
HIRE CAR BAN EXPLAINED IN a written replx last week, Mr. 1 Gaitskell, Minister of Fuel and Power, said that the purpose of the Order limiting the use of hire cars to a radius of 20 miles was not primarily to save petrol, but to ensure that hire cars provided the local public service for which their allowances were intended.
WAITERS ON WHEELS
AFLEET of vans is to distribute more than 1,000 meals per day in the Keighley district to workshops and factories which have no canteens, and to groups of isolated workmen in the area.
FOUR. AUSTIN EXECUTIVES FOR SOUTH AMERICA
FOUR executives of the Austin organization were passengers on R.M.S. Andes, which sailed for South America yesterday. The rarty comprises Mr. L. P. Lord, chairman and managing director of the Austin Motor Co., Ltd., Mr. J. Gibson Jarvie, deputy chairman, Mr. F. Robins, Austin Export Service, and Mr. M. King-Ogden, of the sales department of the Austin Motor Export Corporation.
Their five weeks' tour will include calls at Lisbon, Rio de Janeiro (Brazil), Montevideo (Uruguay), and Buenos Aires (Argentina). The party will arrive back in England on April 16.
35 PER CENT. OF BRADFORDS EXPORTED
LAST year 35 per cent. of the output of Bradford vans was exported, says Mr. George Wansbrough, chairman of Jowett Cars, Ltd., in a statement to be read at the annual general meeting on
March 15. He states that, in the national interest, sales in the home market should be increased.
"For the 'first eight weeks of this year," says Mr. Wansbrough, "markets which could absorb hundreds of vehicles were closed to us. If these markets can be reopened and kept open, we can hope to export our full quota. If the effect of Government action is to reduce our total van production, costs will inevitably rise, and it will be difficult, and may even be impossible, to export more than a small proportion of our potential van production."
CARDIFF WORKERS STRIKE
AT the time of closing for press, an unofficial strike of 1,200 transport employees of Cardiff Corporation was still in progress. The workers demanded an increase in wages of 11 per week. Drivers were stated to receive a basic weekly wage of ES and conductors 14 16s.
Tags
People
:
A. Rossington
,
Guy Arab
,
J. Gibson Jarvie
,
BAN EXPLAINED
,
Robinson
,
George Wansbrough
,
F. Robins
,
W. P. Hill
,
L. P. Lord
,
Steve Eastmead
,
W. Vane Morland
,
Wallace VI
,
H. G. Clifford
Locations
:
Santos
,
Home Counties Ar
,
Preston
,
Leeds
,
Montevideo
,
Birmingham
,
Bradford
,
Bristol
,
Gloucester
,
Glasgow
,
Reading
,
Lisbon
,
London
,
Buenos Aires
,
Rio de Janeiro