Personal Pars
12th March 1948
Page 28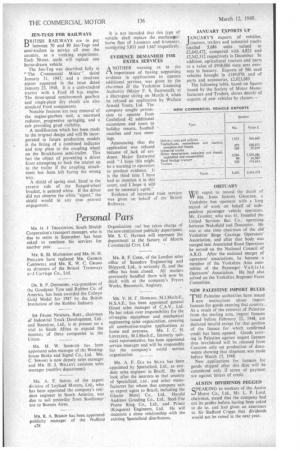 Page 28, 12th March 1948 —
Personal Pars
Close
MR. H J TROUGHFON, South Shields Corporation's transport manager, who is due to retire in September, has been asked to continue his services for another year.
MR, R. M. MATHESON and MR. H. H. PHILLIPS have replaced MR. GEORGE CARDWELL and MR. K. W. C. GRAND as directors of the Bristol Tramways and Carriage Co., Ltd.
DR. R. P. DINSMORE, vice-president of the Goodyear Tyre and Rubber Co. of America, has been awarded the Colwyn Gold Medal for 1947 by the British Institution of the Rubber Industry.
SIR FRANK NEWNES, BART., chairman of Industrial Truck Development, Ltd, and Stacatrue, Ltd.. is at present on a visit to South Africa to expand the interests of these companies in the Union.
MR. M. W. SHORTER has been appointed sales manager of the Westinghouse Brake and Signal Co., Ltd. MR. C. SPRANG is now deputy sales manager and Ma. H. J. Wn.t.En assistant sales manager (rectifier department).
MR. A. F. SMITH, of the export division of Leyland Motors, Ltd., who has been appointed the company's resident engineer in South America, was due to sail yesterday from Southampton to Buenos Aires.
MR. R. A. BISHOP has been appointed publicity manager of the Nuffield A28 Organisation and has taken charge of the new centralized publicity department. MR. S. C. HAYNES will represent the department at the factory of Morris Commercial Cars, Ltd MR. R. F. COOK, of the London sales office of Saunders Engineering and Shipyard, Ltd., is seriously ill, and the
office has been closed. All matters previously handled there will now be dealt with at the company's Fryars Works, Beaumaris, Anglesey.
MR. V. H. F. Homitss, M.1.Mech.E.. M.S.A.E., has been appointed general Diesel sales manager of C.A.V., Ltd. He has taken over responsibility for the oil-engine equipfnent and mechanical engineering sales organization, covering all combustion-engine applications at home and overseas. MR. J. C. H. LOVELOCK, M.I.Mech.E., formerly technical representative, has been appointed service manager and will be responsible for the company's world service organization. _ MR. A. F. ECA DA SII.VA has been appointed by Specialloid, Ltd., as resident sales engineer in Brazil. He will look after the interests in that country of Speciafloid, Ltd, and other manufacturers for whom that company acts as export agent to Brazil, including the Glacier Metal Co., Ltd., Harold Andrews Grinding Co. Ltd., Steel-Tile Piston Ring Co., Lid., and Prince (Kingston) Engineers, Ltd. He will maintain a close relationship with the existing Specialloid distributors.
JANUARY EXPORTS UP TANUARY'S exports of vehicles, J tractors, trailers and industrial trucks totalled 5,686 units valued at £2,645,472, compared with 4,822 and £2,342,512 respectively in December. In addition, agricultural tractors and parts to a value of £938,006 were sent overseas in January. Exports of 386 used vehicles brought in £189,070, and of parts and accessories, £2,023,689.
The following table, based on figures issued by the Society of Motor Manufacturers and Traders, shows details of exports of new vehicles by classes: --
WE regret to record the death of MR. JOHN JOSEPH GRANTER, a Yorkshire bus operator with a long record of work on behalf of independent passenger vehicle operators. Mr. Granter, who was 61, founded the United Services Bus Co., operating between Wakefield and Doncaster. He was at one time chairman of the old Yorkshire Stage Carriage Operators' Association, and after that body was merged into Associated Road Operators he served on the National Council of A.R.O. After the national merger of operators' associations, he became a member of the Yorkshire Area committee of the Passenger V ehicle Operators' Association. He had also served on the Yorkshire Regional Fares Committee.
NEW PALESTINE IMPORT RULES
THE Palestine authorities have issued new instructions about import licences for gonds entering that country. As a result of the removal of Palestine from the sterling area, import licences issued before February 22, 1948, are declared invalid except for that portion of the licence for which confirmed credit has been opened. Goods arriving in Palestine against import licences thus invalidated will be released from Customs only on production of documents showing that shipment was made before March 15, 1948.
New applications for licences for goods shipped after this date will be considered only if terms of payment are against letters of credit.
AUSTIN DIVIDENDS PEGGED
SPEAKING to workers of the Austin Motor Co., Ltd., Mr. L. P. Lord. chairman, stated that the company had cut its profits before having been asked to do so, and had given an assurance to Sir Stafford Cripps that dividends would not be raised in the next year.
Tags
People
:
M. W. SHORTER
,
A. F. SMITH
,
C. SPRANG
,
JOHN JOSEPH GRANTER
,
GEORGE CARDWELL
,
FRANK NEWNES
,
AUSTIN DIVIDENDS PEGGED
,
H. H. PHILLIPS
,
Prince
,
L. P. Lord
,
R. F. COOK
,
R. A. BISHOP
,
JOSEPH GRANTER
,
S. C. HAYNES
,
A. F. ECA DA SII
,
Stafford Cripps
,
H J TROUGHFON
,
R. P. DINSMORE