Away With the Cranks
12th March 1948
Page 24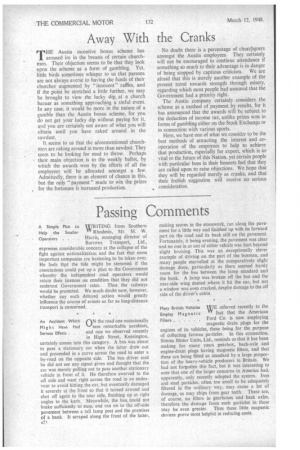 Page 24, 12th March 1948 —
Away With the Cranks
Close
THE Austin incentive bonus scheme has aroused ire in the breasts of certain churchmen. Their objection seems to be that they look upon the scheme as a form of gambling. Yet, little birds sometimes whisper to us that parsons are not always averse to having the funds of their churches augmented by "innocent" raffles, and if the point be stretched a little further, we may be brought to view the lucky dip at a church bazaar as something approaching a sinful event. In any case, it would be more in the nature of a gamble than the Austin bonus scheme, for you do not get your lucky dip without paying for it, and you are certainly not aware of what you will obtain until you have raked around in the sawdust.
It swills to us that the aforementioned churchmen are raking around in more than sawdust. They seem to be looking for mud to throw. Perhaps their main objection is to the weekly ballot, by which the awards won by the efforts of all the employees will be allocated amongst a few. Admittedly, there is an element of chance in this, but the only " payment " made to win the prizes for the fortunate is increased production. No doubt there is a percentage of churchgoers amongst the Austin employees. They certainly will not be encouraged to continue attendance if something so much to their advantage is in danger of being stopped by captious criticism. We are afraid that this is merely another example of the present trend towards strength through misery, regarding which most people had assumed that the Government had a priority right.
The Austin company certainly considers the scheme as a method of payment by results, for it has announced that the awards will be subject to the deduction of income tax, unlike prizes won in forms of gambling either on the Stock Exchange or in connection with various sports.
Here, we have one of what we consider to be the best methods of attracting the interest and cooperation of the ernpoyees to help to achieve that production, especially for export, which is so vital to the future of this Nation, yet certain people with particular bees in their bonnets feel that they are called upon to raise objections. We hope that they will be regarded merely as cranks, and that their foolish suggestion will receive no serious consideration.