Tyre Pane changes
12th June 1982
Page 10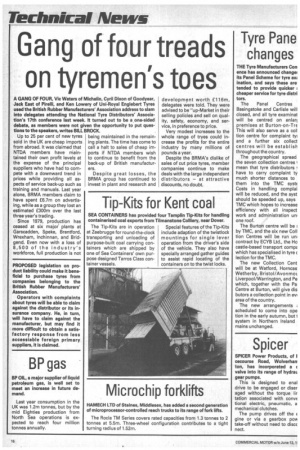 Page 10, 12th June 1982 —
Tyre Pane changes
Close
THE Tyre Manufacturers Con ence has announced changet its Panel Scheme for tyre exi ination, and says these are tended to provide quicker ; cheaper service for tyre distri tors.
The Panel Centres Basingstoke and Carlisle will closed, and all tyre examinat will be centred on enlaq premises at Burton-on-TrE This will also serve as a coll tion centre for complaint tyi and a further six collect centres will be establish throughout the country.
The geographical spread the seven collection centres I mean that tyre distributors I have to carry complaint ty much shorter distances to them into the TMC syste Costs in handling complai will be reduced, and the syst should be speeded up, says TMC which hopes to increase efficiency with all inspect work and administration un, one roof.
The Burton centre will be I by TMC, and the six new Coll tion Centres will be run uni contract by ECYB Ltd., the Ho castle-based transport compE which has specialised in tyre c lection for the TMC.
The new Collection Cent will be at Watford, Horncas Wetherby, Bristol/Avon mot. Liverpool/Warrington, and Pe which, together with the Pa Centre at Burton, will give dis butors a collection point in evi area of the country.
The new arrangements scheduled to come into ope tion in the early autumn, but 1 system in Northern Ireland mains unchanged.