Gang of four treads on tyremen's toes
12th June 1982
Page 10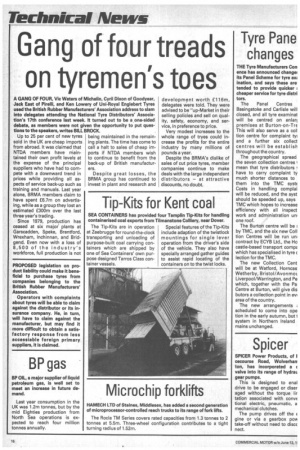 Page 10, 12th June 1982 —
Gang of four treads on tyremen's toes
Close
A GANG OF FOUR, Vic Waters of Michelin, Cyril Dixon of Goodyear, Jack East of Pirelli, and Ken Lowery of Uni-Royal Englebert Tyres used the British Rubber Manufacturers' Association address to slam into delegates attending the National Tyre Distributors' Association's 17th conference last week. It turned out to be a one-sided debate, as members were not given the opportunity to put questions to the speakers, writes BILL BROCK.
Up to 25 per cent of new tyres sold in the UK are cheap imports from abroad. It was claimed that NTDA members have maintained their own profit levels at the expense of the principal suppliers who have had to compete with a downward trend in prices while providing all aspects of service back-up such as training and manuals. Last year alone, BRMA members claim to have spent £6.7m on advertising, while as a group they lost an estimated £300m over the last three year's trading.
Since 1979, production has ceased at six major' plants at Garscadden, Speke, Brentford, Wrexham, lnchinnan, and Bridgend. Even now with a loss of 8,500 of the industry's workforce, full production is not being maintained in the remaining plants. The time has come to call a halt to sales of cheap imports if NTDA members wish to continue to benefit from the back-up of British manufacturers.
Despite great losses, the BRMA group has continued to invest in plant and research and development worth E116m, delegates were told. They were advised to be "up-Market in their selling policies and sell on quality, safety, economy, and service, in preference to price.
Very modest increases to the whole range of tryes could increase the profits for the entire industry by many millions of pounds a year.
Despite the BRMA's dislike of sales of cut price tyres, member companies continue to make deals with the large independent distributors — at attractive discounts, no doubt.