a I would like to know the laws for fog
12th June 1970
Page 61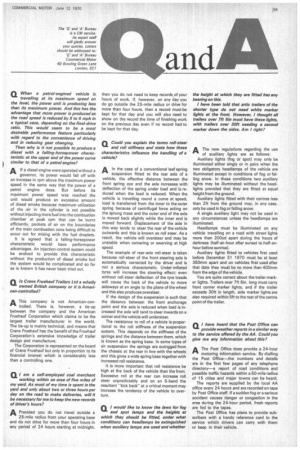 Page 61, 12th June 1970 —
a I would like to know the laws for fog
Close
and spot lamps and the heights at which they should be fitted, under what conditions can headlamps be extinguished when auxiliary lamps are used and whether the height at which they are fitted has any bearing on this.
I have been told that artic trailers of the shorter type do not need white marker lights at the front. However, I thought all trailers over 7ft 6in must have these lights, with trailers over 30ft needing a second marker down the sides. Am I right?
A The new regulations regarding the use of auxiliary lights are as follows: Auxiliary lights (fog or spot) may only be illuminated either singly or in pairs when the two obligatory headlamps of the vehicle are illuminated except in conditions of fog or falling snow. In these conditions two auxiliary lights may be illuminated without the headlights provided that they are fitted at equal height from the ground.
Auxiliary lights fitted with their centres less than 2ft from the ground may, in any case, only be used in fog or falling snow.
A single auxiliary light may not be used in any circumstances unless the headlamps are illuminated.
Headlamps must be illuminated on any vehicle travelling on a road with street lights more than 200yd apart during the hours of darkness (half-an-hour after sunset to half-anhour before sunrise).
Auxiliary lights fitted to vehicles first used before December 31 1970 must be at least 350mm apart and on vehicles first used after that date they must be no more than 400mm from the edge of the vehicle.
You are quite correct about the trailer marker lights. Trailers over 7ft 6in. long must carry front corner marker lights, and if the trailer exceeds 30ft in length, side marker lights are also required within 5ft to the rear of the centre point of the trailer.