North Thames Gas transport manager
12th June 1970
Page 26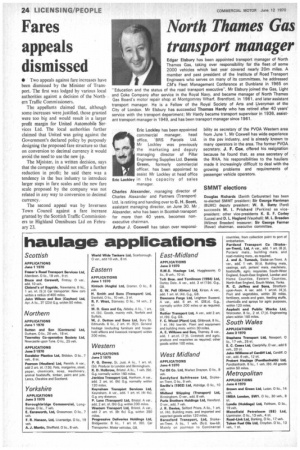 Page 26, 12th June 1970 —
North Thames Gas transport manager
Close
Edgar Elsbury has been appointed transport manager of North Thames Gas, taking over responsibility for the fleet of some 2000 vehicles which last year covered nearly 20m miles. A member and past president of the Institute of Road Transport Engineers who serves on many of its committees, he addressed CM's Fleet Management Conference at Dunblane in 1965 on "Education and the status of the road transport executive". Mr Elsbury joined the Gas. Light and Coke Company after service in the Royal Navy, and became manager of North Thames Gas Board's motor repair shop at Montgomrey Wharf, Brentford, in 1961, and later assistant transport manager. He is a Fellow of the Royal Society of Arts and Liveryman of the City of London. Mr Elsbury has succeeded Thomas Hardy who has retired after 40 years' service with the transport department; Mr Hardy became transport supervisor in 1936, assistant transport manager in 1949, and has been transport manager since 1961.
Eric Lockley has been appointed commercial manager, head
office, BRS Parcels Ltd. Mr Lockley was previously the marketing and deputy managing director of Pillar Engineering Supplies Ltd. Dennis Green, formerly comrriercia I officer, has been appointed to assist Mr Lockley at head office Eric Lockley in the capacity of sales
manager.
Charles Alexander, managing director of Charles Alexander and Partners (Transport) Ltd, is retiring and handing over to G. H. Scott, assistant managing director, on June 30. Mr Alexander, who has been in Scottish transport for more than 40 years, becomes nonexecutive chairman.
Arthur J. Coxwell has taken over responsi
bility as secretary of the PVOA Western area from June 1. Mr Coxwell has wide experience in the psv industry, and is already known to many operators in the area. The former PVOA secretary, J. F. Cox, offered his resignation because he found that, as area secretary of the RHA, his responsibilities to the hauliers made it increasingly difficult to deal with the growing problems and requirements of passenger vehicle operators.
SMMT elections
Douglas Richards (Zenith Carburetter) has been re-elected SMMT president; Sir George Harriman (BLMC) deputy president; W. B. Batty (Ford) succeeds M. I. Prichard (Perkins) as vicepresident : other vice-presidents K. S. F. Corley (Lucas) and D. L. Hagland (Vauxhall): M. L. Breeden (Wilmot Breeden) treasurer: Sir George Farmer (Rover) chairman, executive committee.