Passengers before operator
12th June 1970
Page 25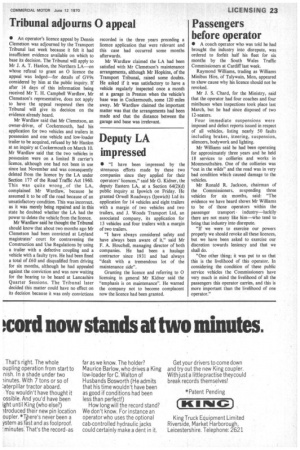 Page 25, 12th June 1970 —
Passengers before operator
Close
• A coach operator who was told he had brought the industry into disrepute, was ordered to forfeit half his fleet for six months by the South Wales Traffic Commissioners at Cardiff last week.
Raymond Williams, trading as Williams Minibus Hire, of Talywain. Mon, appeared to show cause why his licence should not be revoked.
Mr J. S. Chard, for the Ministry, said that the operator had four coaches and four minibuses when inspections took place last March, but he had since disposed of two 12-seaters.
Four immediate suspensions were imposed and defect reports issued in respect of all vehicles, listing nearly 50 faults including brakes, steering, suspension, silencers, bodywork and lighting.
Mr Williams said he had been operating for approximately three years and he held 18 services to collieries and works in Monmouthshire. One of the collieries was "out in the wilds" and the road was in very bad condition which caused damage to the vehicles.
Mr Ronald R. Jackson, chairman of the Commissioners, suspending three vehicles for six months, said: "The evidence we have heard shows Mr Williams to be of those operators within the passenger transport industry—luckily there are not many like him—who tend to bring that industry into disrepute.
"If we were to exercise our powers properly we should revoke all these licences, but we have been asked to exercise our discretion towards leniency and that we shall do.
"One other thing; it was put to us that this is the livelihood of this operator. In considering the condition of these public service vehicles the Commissioners have very much in mind the livelihood of all the passengers this operator carries, and this is more important than the livelihood of one operator."