Economy boost from tours
12th June 1970
Page 24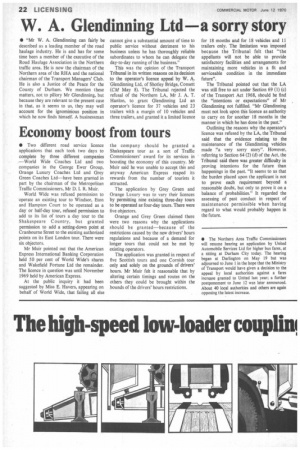 Page 24, 12th June 1970 —
Economy boost from tours
Close
• Two different road service licence applications that each took two days to complete by three different companies —World Wide Coaches Ltd and two companies in the George Ewer Group, Orange Luxury Coaches Ltd and Grey Green Coaches Ltd—have been granted in part by the chairman of the Metropolitan Traffic Commissioners, Mr D. I. R. Muir.
World Wide was refused permission to operate an existing tour to Windsor, Eton and Hampton Court to be operated as a day or half-day tour, refused permission to add to its list of tours a day tour to the Shakespeare Country, but granted permission to add a setting-down point at Cranbourne Street to the existing authorized points on its East London tour. There were six objectors.
Mr Muir pointed out that the American Express International Banking Corporation held 50 per cent of World Wide's shares and Wakefield Fortune Ltd the remainder. The licence in question was until November 1969 held by American Express.
At the public inquiry it had been suggested by Miss E. Havers, appearing on behalf of World Wide, that failing all else
the company should be granted a Shakespeare tour as a sort of Traffic Commissioners' award for its services in boosting the economy of this country. Mr Muir said he was unable to accept this and anyway American Express reaped its rewards from the number of tourists it attracted.
The application by Grey Green and Orange Luxury was to vary their licences by permitting nine existing three-day tours to be operated as four-day tours. There were five objectors.
Orange and Grey Green claimed there were two reasons why the applications should be granted—because of the restrictions caused by the new drivers' hours regulations and because of a demand for longer tours that could not be met by existing operators.
The application was granted in respect of five Scottish tours and one Cornish tour only and solely cm the grounds of drivers' hours. Mr Muir felt it reasonable that by altering certain timings and routes on the others they could be brought within the bounds of the drivers' hours restrictions.
• The Northern Area Traffic Commissioners will resume hearing an application by United Automobile Services Ltd for higher bus fares, at a sitting at Durham City today. The hearing began at Darlington on May 19 but was adjourned to June 1 in the hope that the Ministry of Transport would have given a decision to the appeal by local authorities against a fares increase granted to United last year; a further postponement to June 12 was later announced. About 40 local authorities and others are again opposing the latest increase.