'Soaring costs' election poser
12th June 1970
Page 19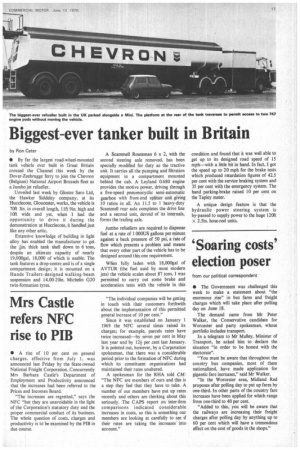 Page 19, 12th June 1970 —
'Soaring costs' election poser
Close
from our political correspondent • The Government was challenged this week to make a statement about "the enormous rise" in bus fares and freight charges which will take place after polling day on June 18.
The demand came from Mr Peter Walker, the Conservative candidate for Worcester and party spokesman, whose portfolio includes transport.
In a telegram to Mr Mulley, Minister of Transport, he asked him to declare the situation "in order to be honest with the electorate".
"You must be aware that throughout the country bus companies, most of them nationalized, have made application for gigantic fare increases," said Mr Walker.
"In the Worcester area, Midland Red proposes after polling day to put up fares by one-third. In other parts of the country fare increases have been applied for which range from one-third to 40 per cent.
"Added to this, you will be aware that the railways are increasing their freight charges after polling day by anything up to 60 per cent which will have a tremendous effect on the cost of goods in the shops."