Biggest-ever tanker built in Britain
12th June 1970
Page 19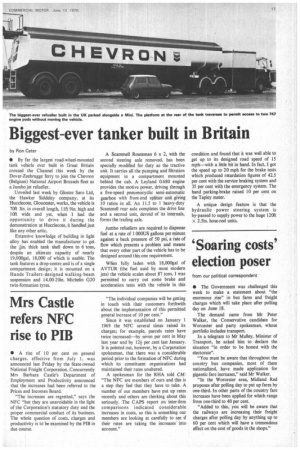 Page 19, 12th June 1970 —
Biggest-ever tanker built in Britain
Close
by Ron Cater • By far the largest road-wheel-mounted tank vehicle ever built in Great Britain crossed the Channel this week by the Dover-Zeebrugge ferry to join the Chevron (Belgium) National Airport Brussels fleet as a Jumbo jet refueller.
Unveiled last week by Gloster Saro Ltd, the Hawker Snideley company, at its Hucclecote, Gloucester, works, the vehicle is 70ft 3in. in overall length, 1 ift 9in. high and 10ft wide and yet, when I had the opportunity to drive it during the demonstration at Hucclecote, it handled just like any other attic.
Extensive knowledge of building in light alloy has enabled the manufacturer to get the lin. thick tank shell down to 6 tons, despite an ultimate capacity of nearly 19,000gal, 18,000 of which is usable. The tank features a drop-centre and is of a single compartment design; it is mounted on a Hands Trailers-designed walking-beam suspension and 14.00-20in. Michelin G20 twin-formation tyres. A &annuli Routeman 6 x 2, with the second steering axle removed, has been specially modified for duty as the tractive unit. It carries all the pumping and filtration equipment in a compartment mounted behind the cab. A Leyland 0.680 engine provides the motive power, driving through a five-speed pneumocyclic semi-automatic gearbox with front-end splitter unit giving 10 ratios in all. An 11.5 to 1 heavy-duty Scammell rear axle completes the drive line and a second unit, devoid of its internals, forms the trailing axle.
Jumbo refueflers are required to dispense fuel at a rate of 1 000US gallons per minute against a back pressure of 50 psi, a rate of flow which presents a problem and means that every other part of the vehicle has to be designed around this.one requirement.
When fully laden with 18,000gal of AVTUR (the fuel used by most modern jets) the vehicle scales about 87 tons. I was permitted to carry out some brake and acceleration tests with the vehicle in this condition and found that it was well able to get up to its designed road speed of 15 mph—with a little bit in hand. In fact, I got the speed up to 20 mph for the brake tests which produced retardation figures of 42.5 per cent with the service braking system and 35 per cent with the emergency system. The hand parking-brake raised 10 per cent on the Tapley meter.
A unique design feature is that the hydraulic power steering system is by-passed to supply power to the huge 120ft X 2.5in. hose-reel units.