4,000 Loaves in 3-ton Van
12th June 1953
Page 69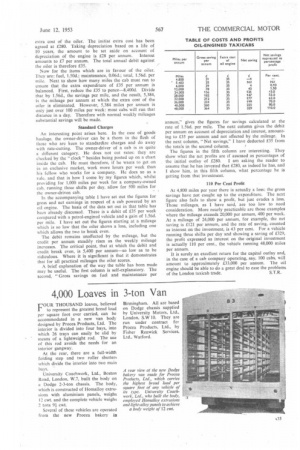 Page 69, 12th June 1953 —
4,000 Loaves in 3-ton Van
Close
FOUR THOUSAND loaves, believed to represent the greatest bread load per square foot ever carried, can be accommodated in a new van body designed by Procea Products, Ltd. The interior is divided into four bays, into which 26 trays can easily be slid by means of a lightweight rod. The use of this rod avoids the needs for an interior gangway.
At the rear, there are a full-width folding step and two roller shutters which divide the interior into two main bays.
University Coachwork, Ltd., Boston Road, London, W.7, built the body on a Dodge 2-3-ton chassis. The body, which is constructed of Homalloy extrusions with aluminium panels, weighs 12 cwt. and the complete vehicle weighs 2 tons 91 cwt.
Several of these vehicles are operated from the new Procea bakery in
Birmingham. All are based on Dodge chassis supplied by University Motors, Ltd., London, S.W 10. They are run under contract for Procea Products, Ltd., by Fisher Renwick Services, Ltd.. Watford.