Economy in Street Cleaning
12th June 1953
Page 63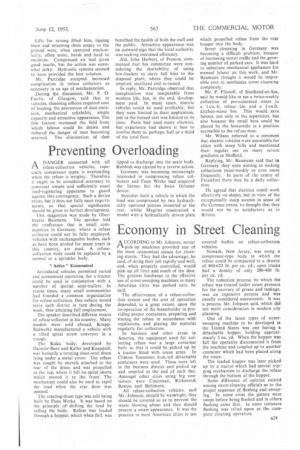 Page 63, 12th June 1953 —
Economy in Street Cleaning
Close
CCORDING to Mr. Johnson, motor 1—k pick-up machines provided one of the most economical means for cleaning streets. They had the advantage, he said, of doing their job rapidly and well, and,. when properly controlled, would pick up all litter and much of the dust. The greatest hindrance to the effective use of street-sweeping machines in many American cities was parked cars, he said.
The effectiveness of a refuse-collection system and the cost of operation depended, to a great extent, upon the co-operation of the householder in providing proper containers, preparing and storing the refuse in accordance with regulations, and placing the material regularly for collection.
In business and other areas in America, the equipment used for collecting refuse was a large container built so that it could be picked up by a tractor fitted with crane arms. In Clinton, Tennessee, 6-cu.-yd. detachable containers were used. These were left in the business district and picked up and emptied at the end of each day. Amongst other cities using big containers were Cincinnati, Richmond, Boston and Baltimore.
All refuse-collection vehicles, said Mr. Johnson, should be watertight, they should be covered so as to prevent the waste blowing about and they should present a smart appearance. It was the practice in most American cities to use covered bodies on refuse-collection vehicles.
Newark, New Jersey, was using a compressor-type body in which the refuse could be compacted to a density of 460-620 lb. per cu. yd.; open trucks had a density of only 280-400 lb. per cu. yd.
The reduction process, by which the refuse was treated under steam pressure for the recovery of grease and tankage, was an expensive process and was usually considered uneconomic. It was a process, Mr. Johnson said, which did not merit consideration in modern city planning.
One of the latest types of streetsweeping machine to be developed in the United States was one having a detachable hopper holding approximately 3 cu. yd. When the hopper was full the operative disconnected it from the machine and coupled up to another container which had been placed along the route.
The loaded hopper was later picked up by a tractor which had special tripping mechanism to discharge the refuse through the bottom of the hopper.
Some difference of opinion existed among street-cleaning officials as to the proper sequence of flushing and sweeping. In some cities the gutters were swept before being flushed and in others flushing came first. In some instances flushing was retied upon as the complete cleaning operation. •