Refuse Disposal: A New Approach Needed
12th June 1953
Page 60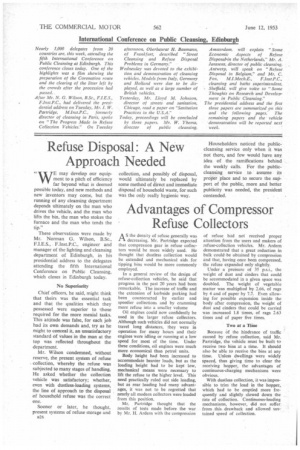 Page 60, 12th June 1953 —
Refuse Disposal: A New Approach Needed
Close
" E may develop our equip ment to a pitch of efficiency far beyond what is deemed possible today, and new methods and new inventors may come, but the running of any cleansing department depends ultimately on the man who drives the vehicle, and the man who lifts the bin, the man who stokes the furnace and the man who tends the tip."
These observations were made by Mr. Norman G. Wilson, B.Sc., F.I.E.S., F.Inst.P.C., engineer and manager of the lighting and cleansing department of Edinburgh, in his presidential address to the delegates attending the fifth International Conference on Public Cleansing, which closes in Edinburgh today.
No Superiority Chief officers, he said, might think that theirs was the essential task and that the qualities which they possessed were superior to .those required for the more menial tasks. This attitude was false, for each job had its own demands and, try as he might to conceal it, an unsatisfactory standard of values in the man at the top was reflected throughout the department.
Mr. Wilson condemned, without reserve, the present system of refuse . collection, whereby the refuse was subjected to many stages of handling. He asked whether the collection vehicle was satisfactory; whether, even with dustless-loading systems, the line of approach to the disposal of household refuse was the correct One.
Sooner or later, he thought, present systems of refuse storage and B26 collection, and possibly of disposal, would ultimately be replaced by some method of direct and immediate disposal of household waste, for such was the only really hygienic way. Householders noticed the publiccleansing service only when it was not there, and few would have any idea of the ramifications behind the weekly calls. For the publiccleansing service to assume its proper place and to secure the support of the public, more and better publicity was needed, the president contended.