International Conference on Public Cleansing, Edinburgh
12th June 1953
Page 60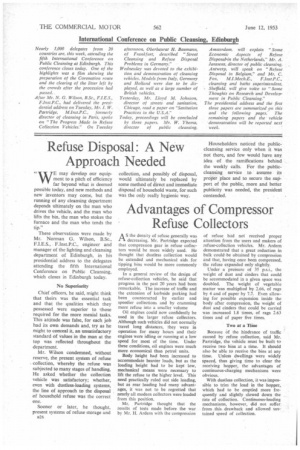 Page 60, 12th June 1953 —
International Conference on Public Cleansing, Edinburgh
Close
Nearly 1,000 delegates from 20 countries are, this week, attending the fifth International Conference on Public Cleansing at Edinburgh. This conference closes today. One of the highlights was a film showing the preparation of the Coronation route and the clearing of the litter left by the crowds after the procession had passed.
After Mr. N. G. Wilson, BSc., F.I.E.S., F.Inst.P.C., had delivered the presidential address on Tuesday, Mr. J. W. Partridge, M.Inst.P.C., formerly director of cleansing in Paris, spoke on "The Progress Made in Refuse Collection Vehicles." On Tuesday afternoon, Oberbaurat H. Baumann, of Frankfurt, described "Street Cleansing and Refuse Disposal Problems in Germany."
Wednesday was devoted to the exhibition and demonstration of cleansing vehicles. Models from Italy, Germany and Holland were due to be displayed, as well as a large number of British vehicles.
Yesterday, Mr, Lloyd M. Johnson. director of streets and sanitation, Chicago, read a paper on "Sanitation Practices in the U.S.A."
Today, proceedings will be concluded by three papers. Mr. W. Ybema, director of public cleansing, Amsterdam, will explain "Some Economic Aspects of Refuse Disposal•in the Netherlands," Mr. A. Janssens, director of public cleansing, Antwerp, will speak on "Refuse Disposal in Belgium," and Mr. C. Fox, M.I.Mech.E., F.Inst.P.C., cleansing and baths superintendent, Sheffield, will give voice to "Some Thoughts on Research and Development in Public Cleansing."
The presidential address and the first three papers are summarized on this and the following pages. The remaining papers and the vehicle demonstration will be reported next week.