Advantages of Compressor Refuse Collectors
12th June 1953
Page 60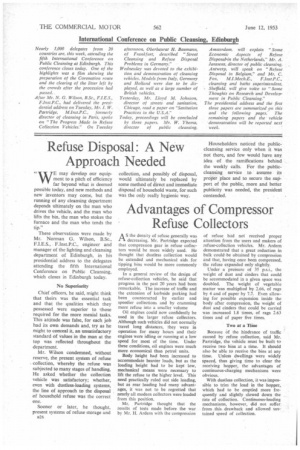 Page 63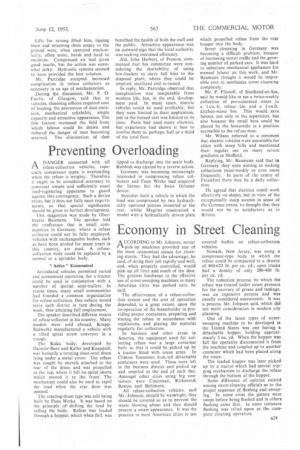 Page 60, 12th June 1953 —
Advantages of Compressor Refuse Collectors
Close
A S the density of refuse generally was decreasing, Mr. Partridge expected that compression gear in refuse collectors would be more widely used. He thought that dustless collection would be extended and mechanical aids for tipping bins would be more commonly employed.
In a general review of the design of refuse-collection vehicles, he said that progress in the past 20 years had been remarkable. The increase of traffic and the extension of kerbside parking had been counteracted by earlier and speedier collections and by cramming more refuse into a smaller volume Oil engines could now confidently be used in the larger refuse collectors. Although such vehicles did not normally travel long distances, they were in operation for many hours and their engines were idling or running at a low speed for most of the time. Under these conditions, oil engines were much more economical than petrol units.
Body height had been increased to accommodate heavier loads, but as the loading height had to be kept low, mechanical means were necessary to lift the refuse to the higher level. This need practically ruled out side loading, but as rear loading had many advantages, it was not to be regretted that nearly all modern collectors were loaded from this position.
Mr. Partridge thought that the results of tests made before the war by Mr. H. Ardent with the compression of refuse had not received proper attention from the users and makers of refuse-collection vehicles. Mr. Ardern demonstrated that a great reduction in bulk could be obtained by compression and that, having once been compressed, the refuse expanded only slightly.
Under a pressure of 35 p.s.i., the weight of dust and cinders that could be accommodated in a given space was doubled. The weight of vegetable matter was multiplied by 2.66, of rags by 4 and of paper by 7.7. Even allowing for possible expansion inside the body after compression, the weight of dust and cinders that could be carried was increased 1.8 times, of rags 2.63 times and of paper five times.
Two at a Time
Because of the hindrance of traffic caused by refuse collection, said Mr. Partridge, the vehicle must be built to receive two bins at a time. It should also be able to receive the bins at any time. Unless dwellings were widely spaced, thus giving time to clear the receiving hopper, the advantages of continuous-charging mechanisms were obvious.
With dustless collection, it was impossible to trim the load in the hopper, which had to be emptied more frequently and slightly slowed down the rate of collection. Continuous-loading mechanisms, however, did not suffer from this drawback and allowed sustained speed of collection. Lifts for raising filled bins, tipping them and returning them empty io the ground were, when operated median:catty, often noisy, harsh and hard to maintain. Compressed air had given good results, but the action was somewhat jerky. Hydraulic systems seemed to have provided the best solution.
Mr. Partridge accepted increased complication in refuse collectors as necessary in an age of mechanization.
During the discussion, Mr. P. D. Fairlie, of Glasgow, said that in vehicles, cleansing officers required case of loading, the prevention of dust emission, mechanical reliability, ample capacity and attractive appearance, The first feature increased the field from which labour could be drawn and reduced the danger of men becoming strained. The . elimination of dust benefited the health of both the staff and the public. Attractive appearance was an outward sign that the local authority was seeking increased efficiency.
Ald. John Herbert, of Preston, commented that his committee were considering the desirability of using low-loaders to carry full bins to the disposal plant, where they could be emptied, sterilized and re-issued.
In reply, Mr. Partridge observed that complication was inseparable from modern life, but, in the end, development paid. In many cases, electric vehicles .could be used profitably, but they were limited in their application, just as the horsed cart was limited in its time. Paris had used many electrics, but experience had shown it best to confine them to. perhaps, half or a third of the total fleet,