88 Per Cent. of Paris Fleet
12th June 1953
Page 54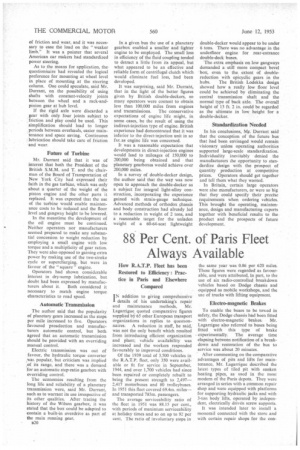 Page 59
Page 54, 12th June 1953 —
88 Per Cent. of Paris Fleet
Close
Always Available
How R.A.T.P. Fleet has been Restored to Efficiency : Practice in Paris and Elsewhere Compared IN addition to giving comprehensive 1 details of his undertaking's repair and maintenance methods, Mr. Lagarrigue quoted comparative figures supplied bi 65 other European transport organizations in replies to question
naires. A reduction in staff, he said, was not the only benefit which resulted from introducing efficient organization and plant; vehicle availability was increased and the workers responded favourably to improved conditions.
Of the 1939 total of 3,500 vehicles in the R.A.T.P. fleet, only 350 were available or fit for service in September, 1944, and over 1,700 vehicles had since been repaired or completely rebuilt to bring the present strength to 2,4972,417 motorbuses and 80 trolleybuses. In 1951 this fleet covered 69.4m. miles— and transported 783m. passengers.
The average serviceability ratio of the fleet in 1951 was 88.15 per cent., with periods of maximum serviceability at holiday times and so on up to 92 per cent. The ratio of involuntary stops in the same year was 0.86 per 620 miles. These figures were regarded as favourable, and were attributed, In part, to the use of six radio-controlled breakdown vehicles based on Dodge chassis and equipped as mobile workshops, and the use of trucks with lifting equipment.
Electro-magnetic Brakes
To enable the buses to be towed in safety, the Dodge chassis had been fitted with electro-magnetic brakes. Mr. Lagarrigue also referred to buses being fitted with this type of brake . experimentally. The average time elapsing between notification of a breakdown and restoration of the bus to service was about 20 minutes.
After commenting on the comparative advantages of pits and lifts for maintenance, Mr. Lagarrigue described the latest types of tiled pit with sunken heating pipes, as used in the most modern of the Paris depots. They were arranged in series with a common repair shop and were equipped with platforms for supporting hydraulic jacks and with 3-ton body lifts, operated by independent, electrically driven screw supports.
It was intended later to install a monorail connected with the store and with certain repair shops for the con veyancc of heavy components. Pits for trolleybuses had platforms with two rails to cradle and transport the electric motor.
A special lift on which vehicles were raised for cleaning, would be adopted in all the R.A.T.P. depots, the cleaning agent being a detergent solution, carried in a wheeled tank, which was heated by an oil burner. The detergent was applied in the form of a steam jet from which certain electrical installations had to be protected. The space-heating boilers were also heated by means of fuel oil, which reduced the number of operators required and the fuel costs. The total saving in a depot accommodating 100 vehicles • had been estimated at 300,000 frs, a year, The use of fork-lift trucks and mechanical sweepers was mentioned by Mr. Lagarrigue as a valuable aid to workshop efficiency. The ease with which assemblies could be loaded into lorries, and with which chassis and bodies could be lifted to facilitate repairs, was an important advantage.
Fork Trucks Tow Ruses
The largest trucks were petrol driven with a capacity of 4,420 lb. and could be fitted with pulley gear or used for pallet loading. They were also employed for towing motorbuses in the depot; trolleybuses could be moved short distances by means of an auxiliary generator driven by a small built-in petrol engine.
In large depots it had been possible to make staff reductions by replacing hand sweeping by mechanical sweeping, which was preceded by floor spraying with a detergent when a parlicularry thick layer of dirt had to be removed.
It had been the practice of the R.A.T.P. for many years to recover used lubricating oil for topping-up purposes.
According to answers in the questionnaires, only 12 of the 65 undertakings regenerated oil on their premises and three had the oil treated by a specialist concern. The overall saving to the R.A.T.P. was more than 25 per cent. of the total quantity which would otherwise have been used.
Questionnaire figures indicated that oil was changed by the Oslo transport undertaking in the minimum distance of 930 miles, and the vehicles in the Bergen fleet ran the maximum notified distance of 4,660 miles, the average being 1,240 to 1,860 miles.
The distance covered between oil changes by R.A.T.P. vehicles was 1,550 miles. Thorough inspections of the buses were carried out every 12,400 miles and the power units of petrolengined vehicles were exchanged after 37,200 miles. The distance that would be covered before the later type of bus engine would be overhauled was still under consideration, Complete vehicle overhauls were undertaken every 74,400 miles, those with separate chassis and bodies being repaired on two chainoperated conveyors.
Specimen times for dismantling, overhaul and reassembly of Various components were; engine, 57 hours; chassis, 103 hours; gearbox, 27 hours; back axle, 43 hours; front axle, 31 hours; complete petrol-driven bus, 1,510 hours.
The author pointed out that a vehicle with a wood body and sepatate chassis could be more easily repaired after an accident than one with a stressed body because the damage was more localized. The repair of the latter type called for equipment which the depots did not possess.