Road-making Plant to be Exempt ? T HE exemption of road-making
12th June 1953
Page 41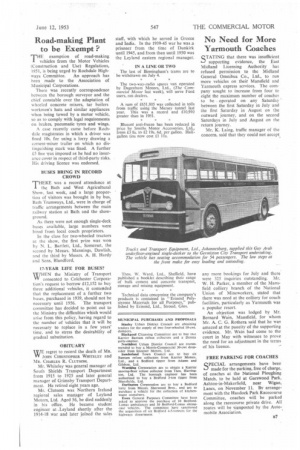 Page 41, 12th June 1953 —
Road-making Plant to be Exempt ? T HE exemption of road-making
Close
vehicles from the Motor Vehicles (Construction and Use) Regulations, 1951, is being urged by Rochdale Highways Committee. An approach has been made to the Association of Municipal Corporations.
There was recently correspondence between the borough surveyor and the chief constable over the adaptation of wheeled concrete mixers, tar boilers workmen's huts and similar appliances when being towed by a motor vehicle, so as to comply with legal requirements on brakes, pneumatic tyres and wings.
A case recently came before Rochdale magistrates in which a driver was fined 10s. for using a lorry drawing a cement-mixer trailer on which no distinguishing mark was fixed. A further £5 fine was imposed as he had no insurance cover in respect of third-party risks. His driving licence was endorsed.
BUSES BRING IN RECORD CROWD
THERE was a record attendance at I the Bath and West Agricultural Show, last week, and a large proportion of visitors was brought in by bus. Bath Tramways, Ltd., were in charge of traffic arrangements between the main railway station at Bath and the showg ro und.
As there were not enough single-deck buses available, large numbers were hired from local coach proprietors.
In the class for two-wheeled tractors at the show, the first prize was won by N. L. Bartlett, Ltd., Somerset, the second by Messrs. Mannings, Dawlish, and the third by Messrs. A. H. Hardy. and Sons, Blandford.
17-YEAR LIFE FOR BUSES?
WHEN the Ministry of Transport consented to Colchester Corporation's request to borrow £12,152 to buy three additional vehicles, it contesded that the replacement of a further two buses, purchased in 1939, should not be
necessary until 1956. The transport committee has decided to point out to the Ministry the difficulties which would arise from this policy, having regard to the number of vehicles that it will be necessary to replace in a few years' time, and to stress the desirability of gradual substitution.
OBITUARY
WE regret to record the death of MR. YY JOHN CHRISTOPHER WHITELEY and MR. CHARLES R. CLUTSOM.
Mr. Whiteley was general manager of South Shields Transport Department from 1915 to 1925 and later general manager of Grimsby Transport Department. He retired eight years ago.
Mr. Clutsotn was Northern Ireland regional sales manager of Leyland Motors, Ltd. Aged 56, he died suddenly in his office. He became student engineer at -Leyland shortly after the 1914-18 war and later joined the sales
staff, with which he served in Greece and India. In the 1939-45 war he was a prisoner from the time of Dunkirk until 1945, and from then until 1950 was the Leyland eastern regional manager.
IN A LINE OR TWO The last of Birmingham's trams are to be withdrawn on July 4.
The two-way-radio spares van operated by Dagenham Motors, Ltd., (The Commercial Motor last week), will serve Ford users, not dealers.
A sum of £651.805 was collected in tolls from traffic using the Mersey tunnel last year. This was a record and £10,910 greater than in 1951.
Bluecol anti-freeze has been reduced in price by Smiths Motor Accessories, Ltd., from £3 8s. to £2 19s. 6d, per gallon. Halfgallon tins now cost £1 1 ls.
Thos. W. Ward, Ltd., Sheffield, have published a booklet describing their range of bulk cement and concrete transport, storage and mixing equipment.
Technical data concerning the company's products is contain in " Erinoid Polystyrene Materials for all Purposes," published by Erinoid, Ltd., Stroud, Glos.