No Evidence on Records Charge
12th June 1953
Page 40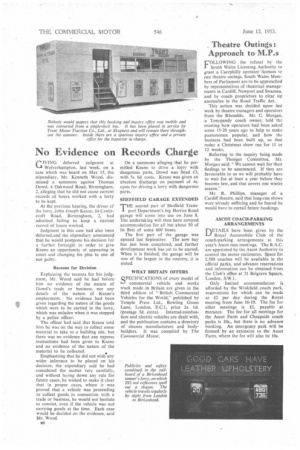 Page 40, 12th June 1953 —
No Evidence on Records Charge
Close
plVING deferred judgment at 'I Wolverhampton, last week, on a case which was heard on May 15, the stipendiary, Mr, Kenneth Wood, dismissed a summons against Thomas Dowd, 4 Oakwood Road, Birmingham, 2, alleging that he did not cause current records of hours worked with a lorry to be kept.
At the previous hearing, the driver of the lorry,-John Joseph Keane, 84 Castle. croftRoad, Birmingham, 2, had admitted failing to keep a current record of hours worked.
Judgment in this case had also been deferred,and the stipendiary announced that he would postpone his decision for a • further fortnight in order to give Keane an opportunity of appearing in court and changing his plea to one of not guilty.
Reasons for Decision
Explaining the reasons for his judgment, Mr. Wood said he had beforehim no evidence of the nature of Dowd's trade or business, nor any details of the nature of Keane's employment. No evidence had been given regarding the nature of the goods which were to be carried in the lorry, which was unladen when it was stopped by a police officer.
The officer had said that Keane told him he was on the way to collect some material to take to a building site, but there was no evidence that any express instructions had been given to Keane and no evidence of the nature of the material to be collected.
Emphasizing that he did not wish*any wider inference to be placed on his decision, the stipendiary said he had considered the matter very carefully, and without laying down any rule for future cases, he wished to make it clear that in proper cases, where it was proved that a vehicle was proceeding to collect goods in connection with a trade or business, he would not hesitate to convict, even if the vehicle was not carrying goods at the time. Each case would be decided on the evidence, said Mr. Wood.
B6 On a summons alleging that he permitted Keane to drive a lorry with dangerous parts, Dowd was fined £3, with 5s. 6d. costs. Keane was given an absolute discharge on payment of 4s. costs for driving a lorry with dangerous parts.
SHEFFIELD GARAGE EXTENDED
THE second part of Sheffield Trans.'. pori Department's big Herries Road garage will come into use on June 8. The undertaking will then have covered accommodation for all but about 50 of its fleet of some 600 buses.
The first part of the garage was opened last September. The new bay has just been completed, and further development work has yet to be started. When it is finished, the garage will be one of the largest in the country, it is stated.
WHAT BRITAIN OFFERS
QPECIFICATIONS of every model of
commercial vehicle and works truck made in Britain are given in the third edition of "British Commercial Vehicles for the World," published by Temple Press Ltd., Bowling Green Lane, London, E.C.1, price 2s. 6d. (postage 3d. extra). Internal-combustion and electric vehicles are dealt with, and the publication contains a directory of chassis manufacturers and bodybuilders. It was compiled by The Commercial Motor.