. Theatre Outings : Approach to M.P.s
12th June 1953
Page 40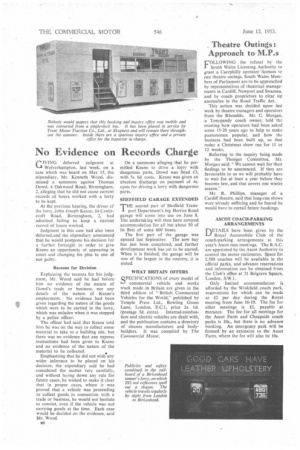 Page 40, 12th June 1953 —
. Theatre Outings : Approach to M.P.s
Close
cOLLOWING the refusal by the
South Wales Licensing Authority to grant a Caerphilly operator licences to run theatre outings, South Wales Members of Parliament are to be approached by representatives of theatrical managements in Cardiff, Newport and Swansea, and by coach proprietors to clear up anomalies in the Road Traffic Act.
This action was decided upon last week by theatre managers and operators from the Rhondda. Mr. C. Morgan, a Tonypandy coach owner, told the meeting how operators had been asked some 15-20 years ago to help to make pantomimes popular, and how the business had been built up, so that today a Christmas show ran for 11 or 12 weeks.
Referring to the inquiry being made by the Thesiger Committee, Mr. Morgan said: "We cannot wait for their findings to be announced. If they are favourable to us we will probably have to wait for at least a year before they become law, and that covers one winter season."
Mr. R. Phillips, manager of a Cardiff theatre, said that long-run shows were already suffering and he feared he would have to curtail future bookings.
ASCOT COACH-PARKING ARRANGEMENTS
DETAILS have been given by the Royal Automobile Club of the coach-parking arrangements at this year's Ascot race meetings. The R.A.C. are appointed by the Ascot Authority to control the motor enclosures. Space for 2,500 coaches will be available in the official parks, and advance reservations and information can be obtained from the Club's office at 31 Belgrave Square, London, S.W.I.
Only limited accommodation is afforded by the Winkfield coach park, reservations for which can be made at £2 per day during the Royal meeting from June 16-19. The fee for other meetings is £1, payable at entrance. The fee for all meetings for the Ascot Farm and Cheapside coach parks is 10s., but there is no advance booking. An emergency park will be formed by an extension to the Ascot Farm, where the fee will also be !Os.