General Increase for Leigh
12th June 1953
Page 39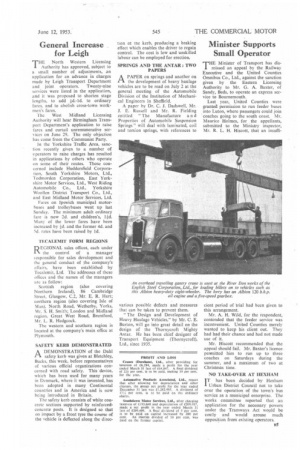 Page 39, 12th June 1953 —
General Increase for Leigh
Close
THE North Western Licensing Authority has approved, subject to a small number of adjustments, an
application for an advance in charges made by Leigh Transport Department and joint operators. Twenty-nine services were listed in the application, and it was proposed to shorten stage lengths, to add id.-1d. to ordinary fares, and to abolish cross-town workmen's fares.
The West Midland Licensing Authority will hear Birmingham Transport Department's application to raise fares and curtail unremunerative services on June 29. The only objection has come from the Communist Party.
In the Yorkshire Traffic Area, sanction recently given to a number of operators to raise charges has resulted in applications by others who operate on some of their routes. Those concerned include Huddersfield Corporation, South Yorkshire Motors, Ltd., Todmorden Corporation, East Yorkshire Motor Services, Ltd., West Riding Automobile Co., Ltd., Yorkshire Woollen District Transport Co., Ltd., and East Midland Motor Services, Ltd.
Fares on Ipswich municipal motorbuses and trolleybuses went up last Sunday. The minimum adult ordinary fare is now 2d. and children's, 14d. Many of the lower fares have been increased by fd. and the former 4d. and 5d. rates have been raised by Id.
TECAI,EMIT FORM REGIONS
REGIONAL sales offices, each under IX the control of a manager responsible for sales development and the general conduct of the company's affairs, have been established by Tecalemit, Ltd. Thc addresses of these offices and the names of the managers are as follow:
Scottish region (also covering Northern Ireland), 86 Cambridge Street, Glasgow, C.2, Mr. E. R. Hart; northern region (also covering Isle of Man), North Road, Wetherby, Yorks, Mr. S. H. Smith; London and Midlaael region, Great West Road, Brentford, Mr. L. R. Hedgeock.
The western and southern region is located at the company's main office at Plymouth.
SAFETY KERB DEMONSTRATED
A DEMONSTRATION of the Dahl safety kerb was given at Bietehley, Bucks, this week, before representatives of various official organizations concerned with road safety. This device, which has been used for many years in Denmark, where it was invented, has been adopted in many Continental countries and in America and is now being introduced in Britain.
The safety kerb consists of white concrete sections supported by reinforcedconcrete posts. It is designed so that on impact by a front tyre the course of the vehicle is deflected along the direc
tion ot the kerb, producing a braking effect which enables the driver to regain control. The cost is low and unskilled labour can be employed for erection.
SPRINGS AND THE ANTAR: TWO PAPERS
APAPER on springs and another on the development of heavy haulage vehicles are to be read on July 2 at the general meeting of the Automobile Division of the Institution of Mechanical Engineers in Sheffield.
A paper by Dr. C. J. Dadswell, Mr. J. E. Russell and Mr. R. Fielding entitled "The Manufacture a is d Properties of Automobile Suspension Springs" will deal with laminated, coil and torsion springs, with references to various possible defects and measures that can he taken to prevent them.
"The Design and Development of Heavy Haulage Vehicles," by Mr. C. E. Burton, will go into great detail on the design of the Thornycroft Mighty Antar. He has been chief designer of Transport Equipment (Thornycroft), Ltd., since 1935.