Men in the News
12th June 1953
Page 38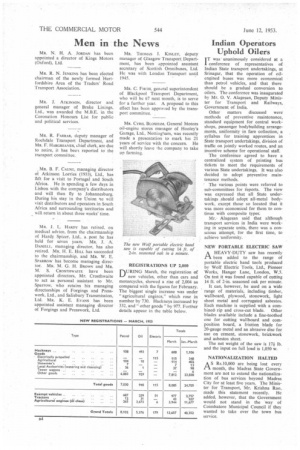 Page 38, 12th June 1953 —
Men in the News
Close
MR. N. H. A. JORDAN has been appointed a director of Kings Motors (Oxford), Ltd.
MR. R. N. JENKINS has been elected chairman of the newly formed *Hertfordshire Area of the Traders' Road Transport Association.
MR. J. ATKINSON, director and general manager of Brake Linings, Ltd., was awarded the M.B.E. in the Coronation Honours List for public and political services.
MR. R. FARRAR, deputy manager of Rochdale Transport Department, and MR. F. HARGREAVES, chief clerk, are due to retire, it has bee' i reported to the transport committee.
MR. B. F. CANT, managing director oi Atkinson Lorries (1933), Ltd., has left for a visit to Portugal and South Africa. He is spending a few days in Lisbon with the company's distributors and will then fly to Johannesburg. During his stay in the Union no will visit distributors and operators in South Africa and surrounding territories and will return in about three weeks' time.
MR. J. L. HARDY has retired, on medical advice, from the chairmanship of Hardy Spicer, Ltd., a. post he has held for seven years. MR. J. A. DANIEL!., managing director, has also retired. MR. H. E. HILL has succeeded to the chairmanship, and MR. W. E. SPARROW has become managing director. MR. M. G. H. BROWN and MR. M. S. CROSTHWAITE have been appointed directors, Mr. Crosthwaite to act as personal assistant to Mr. Sparrow, who retains his managing directorships of Forgings and Presswork, Ltd., and Salisbury Transmission, Ltd. MR. K. E. EVANS has been appointed assistant managing director of Forgings and Presswork, Ltd. MR. THOMAS I. KINLEY, deputy manager of Glasgow Transport Department, has been appointed assistant secretary of Scottish Omnibuses, Ltd. He was with London Transport until 1945.
MR. C. FIRTH, gerhtral superintendent of Blackpool Transport Department, who will be 67 next month, is to serve for a further year. A proposal to this effect has been approved by the transport committee.
MR. CYRIL BLOXHAM, General Motors oil-engine stores manager of Hooky's Garage, Ltd., Nottingham, was recently made a presentation to mark his 21 years of service with the concern. He will shortly leave 'he company to take up farming.
REGISTRATIONS UP 2,000
nURING March, the registration of
new vehicles, other than cars and motorcycles, showed a rise of 2,004 as compared with the figures for February. The biggest single increase was under "agricultural engines," which rose in number by 730. Hackneys increased by 332, and "other goods by 977. Further details appear in the table below.
Tags
People
:
K. E. EVANS
,
H. A. JORDAN
,
W. E. SPARROW
,
B. F. CANT
,
R. FARRAR
,
F. HARGREAVES
,
C. FIRTH
,
CYRIL BLOXHAM
,
R. N. JENKINS
,
M. S. CROSTHWAITE
,
J. ATKINSON
,
J. A. DANIEL
,
THOMAS I. KINLEY