Indian Operators Uphold Oilers
12th June 1953
Page 38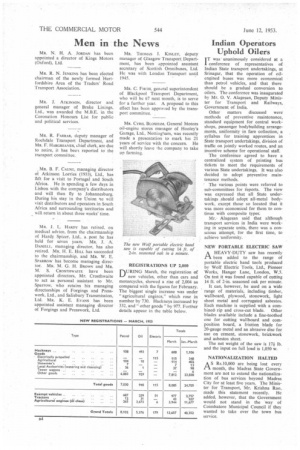 Page 38, 12th June 1953 —
Indian Operators Uphold Oilers
Close
I T was ' unanimously considered at a conference of representatives of Indian State transport undertakings, at Srinagar, that the operation of oilengined buses was more economical than petrol vehicles, and that there should be a gradual conversion to oilers. The conference was inaugurated by Mr. 0. V. Alagesan, Deputy Minister for Transport and Railways. Government of India.
Other matters discussed were methods of preventive maintenance, standard equipment for central workshops, passenger bodybuilding arrangements, uniformity in fare collection, a syllabus for training apprentices in State transport undertakings, division of traffic on jointly worked routes, and an incentive scheme for operational staff.
The conference agreed to have a centralized system of printing bus tickets to meet the requirements of various State undertakings. It was also decided to adopt preventive maintenance methods.
The various points were referred to sub-committees for reports. The view was expressed that all State undertakings should adopt all-metal bodywork, except those so located that it was more economical for them to continue with composite types.
Mr.Alagesan said that although transport services in India were working in separate units, there was a conscious attempt, for the first time, to achieve uniformity.
NEW PORTABLE ELECTRIC SAW A HEAVY-DUTY saw has recently tt been added to the range of portable electric hand tools produced by Wolf Electric Tools, Ltd., Pioneer Works, Hanger Lane, London, W.5. On test it was found capable of cutting 14 ft. of 2-in, seasoned oak per minute.
It can, however, be used on a wide range of materials, including timber, wallboard, plywood, stonework, light sheet metal and corrugated asbestos. Each machine is supplied with a combinedrip and cross-cut blade. Other blades available include a fine-toothed one for cutting wallboard and composition board, a friction blade for 20-gauge metal and an abrasive disc for use on cement, stonework, brickwork and asbestos sheet.
The net weight of the saw is 171 lb. and the input on full load is 1,050 w.
NATIONALIZATION HALTED
AS Rs.10,000 are being lost every month, the Madras State Government are not to extend the nationalization of bus services beyond Madras City for at least five years. The Minister for Transport, Mr. Krishna Rao, made this statement recently. He added, however, that the Government would not stand in the way of Coimbatore Municipal Council if they wanted to take over the town bus service.