Pay Award Against C-licensees Working Week to be Reduced
12th June 1953
Page 36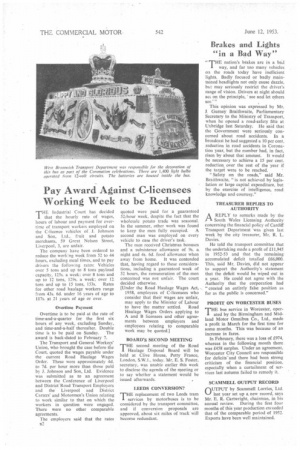 Page 36, 12th June 1953 —
Pay Award Against C-licensees Working Week to be Reduced
Close
-F,HE Industrial Court has decided 1 that the hourly rate of wages, hours of labour and payment for overtime of transport workers employed on the C-licence vehicles of J. Johnson and Son, Ltd., fruit and potato merchants, 59 Great Nelson Street, Liverpool, 3, are unfair.
The company have been ordered to reduce the working week from 52 to 44 hours, excluding meal times, and to pay drivers the followIng rates: Vehicles over 5 tons and up to 8 tons payload capacity, 125s. a week; over 8 tons and up to 12 tons, 129s. a week; over 12 tons and up to 15 tons, 153s. Rates for other road haulage workers range from 43s. fid. under 16 years of age to 117s. at 21 years of age or over.
Overtime Payment
Overtime is to be paid at the rate of time-and-a-quarter for the first six hours of any week, excluding Sunday, and time-and-a-half thereafter. Double time is to be paid on Sunday. The award is back-dated to February 7.
The Transport and General Workqe Union, who brought the case before the Court, quoted the wages payable under the current Road Haulage Wages Order. These were approximately 4d. to 7d. per hour more than those paid by J. Johnson and Son, Ltd. Evidence was submitted as to an agreement between the Conference of Liverpool and District Road Transport Employers and the Liverpool and District Carters' and Motormen's Union relating to work similar to that on which the workers in question were engaged. There were no other comparable agreements.
The employers said that the rates B2
quoted were paid for a guaranteed 52,-hour week, despite the fact that the wholesale potato trade was seasonal. In the summer, other work was found
to keep the men fully occupied. A second man was employed on every vehicle to ease the driver's task.
The men received Christmas bonuses and a subsistence allowance of 9s. a. night and 4s. 6d. food allowance when away from home. It was contended that, having regard to these considerations, including a guaranteed week of 52 hours, the remuneration of the. men concerned was not unfair. The court decided otherwise.
[Under the Road Haulage Wages Act, 1938, employees of C-licensees who consider that their wages are unfair, may apply to the Minister of Labour
to have the matter settled. Road Haulage Wages Orders applying to A and B licensees and other agreements between employers and employees relating to comparable work may be quoted.]
BOARD'S SECOND MEETING
THE second meeting of the Road Haulage Disposal Board will be held at Clive House, Petty France, London, S.W.1" today. Mr. E. S. Foster, secretary, was unable earlier this week to disclose the agenda of the meeting or to say whether a statement would be issued afterwards.
LEEDS CONVERSION?
THE replacement of two Leeds tram services by motorbuses is to be considered by the transport committee, and if conversion proposals are approved, about six miles of track will become redundant.
Brakes and Lights
in a Bad Way!, " THE nation's brakes are in a bad way, and far too many vehicles on the roads today have inefficient lights. Badly focused or badly maintained headlights not only cause dazzle, but may seriously restrict the driver's range of vision. Drivers at night should aci: on the principle, see and let others See.' " This opinion was expressed by Mr. J, Gurney Braithwaite, Parliamentary Secretary to the Ministry of Transport, when he opened a road-safety fete at Uxbridge last Saturday. He said that the Government were seriously concerned about road accidents. In a broadcast he had suggested a 10 per cent. reduction in road accidents in Coronation year, but the number had, in fact, risen by about that amount. It would be necessary to achieve a 15 per cent. reduction. over the rest of the year if the target were to be reached.
"Safety on the roads," said Mr. Braithwaite, "is not achieved by legislation or large capital expenditure, but by the exercise of intelligence, road knowledge and courtesy."
TREASURER REPLIES TO AUTHORITY
AREPLY to remarks made by the .South Wales Licensing Authority concerning the financial policy of Cardiff Transport Department was given last week by the city treasurer, Mr. R. L. Davies.
He told the transport committee that the undertaking made a profit of 111,945 in 1952-53 and that the remaining accumulated deficit totalled 166,000. This, said Mr. Davies, did not appear to support the Authority's statement that the deficit would be wiped out in a year He could not agree with the Authority that the corporation had "created an entirely false position as far as the public is concerned."
PROFIT ON WORCESTER BUSES
THE bus service in Worcester, operated by the Birmingham and Midland Motor Omnibus Co., Ltd., made a profit in March for the first time for some months. This was because of an increase in fares.
In February, there was a loss of 1974, whereas in the following month there was 1458 surplus. Under an agreement, Worcester City Council are responsible for deficitsand there had been strong criticism of the financial position, especially when a curtailment of services last autumn failed to remedy it.
SCAMMELL OUTPUT RECORD
OUTPUT by Scammell Lorries, Ltd. last year set up a, new record, says Mr. E. R. Cartwright, chairman, in his annual review. During the first four months of this year pioduction exceeded that of the comparable period of 1952. Exports have been well maintained.