Passing Comments
12th June 1953
Page 34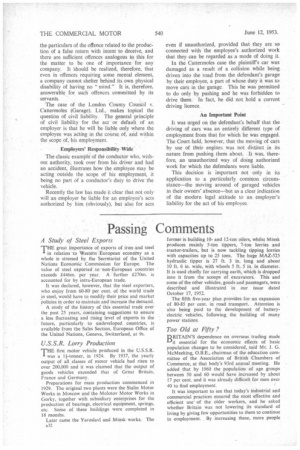 Page 35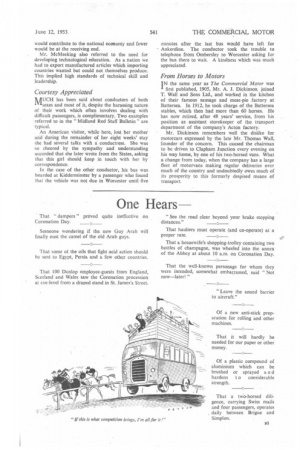 Page 34, 12th June 1953 —
Passing Comments
Close
A Study of Steel Exports
THE great importance of exports of iron and steel 1 in relation to Western European economy as a whole is stressed by the Secretariat of the United Nations Economic Commission for Europe. The value of steel exported to non-European countries exceeds £446m. per year. A further £270m. is accounted for by intra-European trade.
It was declared, however, that the steel exporters, who enjoy from 60-80 per cent. of the world trade in steel, would have to modify their price and market policies in order to maintain and increase the demand.
A study of the history of this essential trade over the past 25 years, containing suggestions to ensure a less fluctuating and rising level of exports in the future, particularly to undeveloped countries, is available from the Sales Section, European Office of the United Nations, Geneva, Switzerland, at 9s.
U.S.S.R. Lorry Production
THE first motor vehicle produced in the U.S.S.R. was a li-tormer, in 1924. By 1937, the yearly output of all ,classes of motor vehicle had risen to over 200,000 and it was claimed that the output of goods vehicles exceeded that of Great Britain, France and Germany.
Preparations for mass production commenced in 1929. The original two plants were the Stalin Motor Works in Moscow and the Molotov Motor Works in Gorky, together with subsidiary enterprises for the production of bearings, electrical equipment, springs, etc. Some of these buildings were completed in 18 months.
Later came the Yaroslavl and Minsk works. The
A32 former is building 10and 12-ton oilers, whilst Minsk produces mainly 5-ton tippers, 7-ton lorries and tractor-trailers,, but is now tackling tipping lorries with capacities up to 25 tons. The huge MAZ-525 hydraulic tipper is 27 ft. 3 in. long and about 10 ft. 6 in. wide, with wheels 5 ft. 5 in. in diameter. It is used chiefly for carrying earth, which is dropped into it from the scoops of excavators.. This and some of the other vehicles, goods and passengers, were described and illustrated in our issue dated October 17, 1952.
The fifth five-year plan provides for an expansion of 80-85 per cent. in road transport. Attention is also being paid to the development of batteryelectric vehicles, following the building of many power stations.
Too Old at Fifty ?
BRITAIN'S dependence on overseas trading made it essential for the economic effects of basic population changes to be considered, said Mr. .1. G. McMeeking, 0.B.E., chairman of the education committee of the Association of British Chambers of Commerce, at that body's 93rd annual meeting. He added that by 1960 the population of age groups between 50 and 60 would have increased by about 17 per cent. and it was already difficult for men over 40 to find employment.
It was important to see that today's industrial and commercial practices ensured the most effective and efficient use of the older workers, and he asked whether Britain was not lowering its standard of living by giving few opportunities to them to continue in employment. By increasing these, more people would contribute to the national economy and fewer would be at the receiving end.
Mr. McMeeking also referred to the need for developing technological education. As a nation we had to export manufactured articles which importing countries wanted but could not themselves produce. This implied high standards of technical skill and leadership.
Courtesy Appreciated
MUCH has been said about conductors of both 'sexes and most of it, despite the harassing nature of their work which often involves dealing with difficult passengers, is complimentary. Two examples referred to in the "Midland Red Staff Bulletin" are typical.
An American visitor, while here, lost her mother arid during the remainder of her eight weeks' stay she had several talks with a conductress. She was so cheered by the sympathy and understanding accorded that she later wrote from the States, asking that this girl should keep in touch with her by correspondence.
In the case of the other conductor, his bus was boarded at Kidderminster by a passenger who found that the vehicle was not due in Worcester until five minutes after the last bus would have left for Ankerdine. The conductor took the trouble to telephone from Ombersley to Worcester asking for the bus there to wait. A kindness which was much appreciated.
From Horses to Motors
IN the same year as The Commercial Motor was first published, 1905, Mr. A. J. Dickinson, joined T. Wall and Sons Ltd., and worked in the kitchen of their famous sausage and meat-pie factory at Battersea. In. 1912, he took charge of the Battersea stables, which then had more than 60 horses. He has now retired, after 48 years' service, from his position as assistant storekeeper of the transport department of the company's Acton factory.
Mr. Dickinson remembers well the dislike for motorcars expressed by the late Mr. Thomas Wall, founder of the concern. This caused the chairman to be driven to Clapham Junction every evening on his way home, by one of his two-horsed vans. What a change from today, when the company has a large fleet of motorvans making regular deliveries over much of the country and undoubtedly owes much of its prosperity to this formerly despised means of transport.