FOLDING DOORS FOR LARGE GARAGES.
12th June 1928
Page 68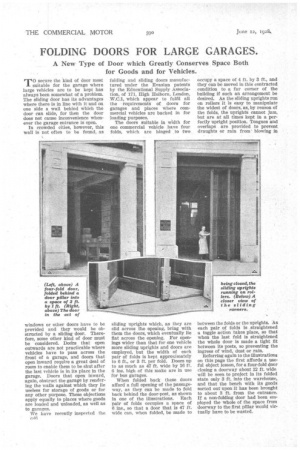 Page 68, 12th June 1928 —
FOLDING DOORS FOR LARGE GARAGES.
Close
A New Type of Door which Greatly Conserves Space Both for Goods and for Vehicles.
MO secure the kind of door most suitable for the garage where large vehicles are to be kept has always been somewhat of a problem. The sliding door has its advantages where there is in line with it and on one side a wall behind which the door can slide, for then the door does not cause inconvenience whenever the garage entrance is open.
In crowded cities, however, this wall is not often to be found, as windows or oilier doors have to be provided and they would be obstructed by a sliding door. Therefore, some other kind of door must be considered. Dodrs that open outwards are not practicable where vehicles have to pass across the front of a garage, and doors that open Inward require a great deal of room to enable them to be shut after the last vehicle is in its place in the garage. Doors that open inward, again, obstruct the garage by rendering the walls against which they lie useless for storage of goods or for any other purpose. These objections apply equally to places where goods are loaded and unloaded, as well as to garages.
We have recently inspected the c46 folding and sliding doors manufactured under the Evasian patents by the Educational Supply Association, of 171, High Holborn, London, W.C.1, which appear to fulfil all the requirements of doors for garages and places where commercial vehicles are backed in for loading purposes. The doors suitable in width for one commercial vehicle have four folds, which are hinged to two sliding uprights which, as they are slid across the opening, bring with them the doors, which eventually lie fiat across the opening. For openings wider than that for one vehicle more sliding uprights and doors are employed, but the width of each pair of folds is kept approximately to 6 ft., or 3 ft. per fold. Doors up to as much as 47 ft. wide by 16 ft. 6 ins, high of this make are in use for bus garages.
When folded back these doors afford a full opening of the passageway, as they can be made to fold back behind the door-post, as shown In one of the illustrations. Each pair of folds occupies a space of 6 ins., so that a door that is 47 ft. wide can, when folded, be made to occupy a space of 4 ft. by 3 ft., and they can be moved in this contracted condition to a far corner of the betiding if such an arrangement be desired. As the sliding uprights run on rollers it is easy to manipulate the widest of doors, as, by reason of the folds, the uprights cannot jam, but are at all times kept in a perfectly upright position. Tongues and overlaps are provided to prevent draughts or rain from blowing in between the folds or the uprights. As each pair of folds is straightened a toggle action takes place, so that when the last fold is straightened the whole door is made a tight fit between its posts, so preventing the ingress of wind, dust or rain.
Referring again to the Illustrations on this page the first affords a useful object lesson, for a four-fold door closing a doorway about 12 ft. wide will be seen to project in its folded state only 3 ft. into the warehouse, and that the bench with its goods sorted out upon it has been brought to about 3 ft. from the entrance. If a non-folding door had been employed the whole of the space from doorway to the first pillar would virtually have to be wasted.