EXPERIENCE WITH LONDON'S SIX-WHEELERS.
12th June 1928
Page 66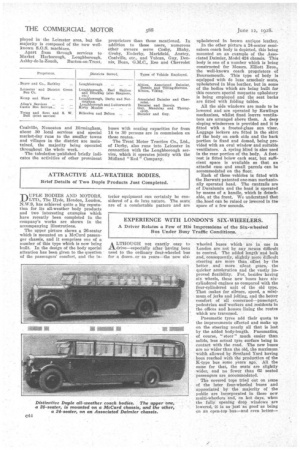 Page 67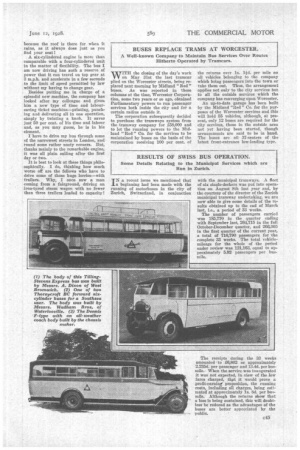 Page 66, 12th June 1928 —
EXPERIENCE WITH LONDON'S SIX-WHEELERS.
Close
ALTHOUGH not exactly . easy to dzive—especially after having been used to the ordinary four-wheeled bus for a dozen or SO years---the "new
silt
wheeled buses which are in use in London are not by any means difficult to control. The added length and bulk and, consequently, slightly. More diMcult steering are more than. offset by the better, and more silent gears, the quicker acceleration and the vastly improved flexibility. For, besides having six wheels, these new buses have sixcylindered engines as compared with the four-cylindered unit of the old type. That makes for silence, speed, a minimum of jerks and jolting, and the better comfort of all concerned—passenger, pedestrian and workers and residents in the offices and houses lining the routes which are traversed.
Pneumatic tyres add their quota to the improvements effected and make up on the steering nearly all that is lost by the added body-length. Pneumatics, of course, " steer " much easier than solids, less actual tyre surface being in contact with the road. The new buses are no wider than the old, the maximum width allowed by Scotland Yard having been reached with the production of the IC-type bus some years ago. AR the same for that, the seats are slightly wider, and no fewer than 62 seated passengers are accommodated.
The covered tops tried out on some of the later four-wheeled buses and appreciated by the majority of the public are incorporated in these new multi-wheelers and, an hot days, when the fully` opening drop windows are lowered, it is as just as good as being on an open-top bus—and even better because the roof is there for when it rains, as it always does just as you find your seat!
A six-cylindered engine is more than comparable with a four-cylindered unit in the matter of flexibility. The bus I am now driving has such a reserve of Power that it can travel on top gear at 3 m.p.h. and accelerate in a few seconds to the limit of speed permitted by law without my having to change gear.
. I3eside.s putting me in charge of a splendid new machine, the company has looked after my colleague and given him a new type of time and laboursaving ticket machine—printing, punching and delivering all in one operation, simply by twisting a knob. It saves just 50 per cent, of his time and labour and, as you may guess, be is in his • element.
I have to drive my bus through some of the narrowest streets in London, and round some rather nasty corners. But, thanks mainly to the remarkable engine, it was all plain sailing after the first day or two.
It is best to look at these things philosoplaicaily. I do, thinking how much . worse off are the fellov;rs who have to drive some of those huge lorries—with trailers. Why, I once saw a man coming from a fairground, driving an iron-tyred steam wagon with no fewer than three trailers loaded to capacity!