A New Steam Wagon's Early Success.
12th June 1928
Page 64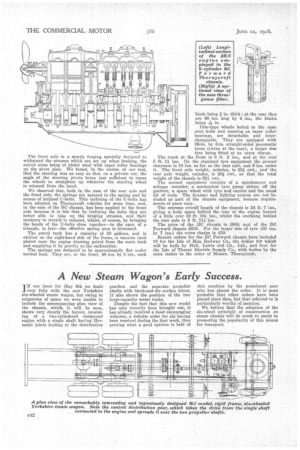 Page 64, 12th June 1928 —
A New Steam Wagon's Early Success.
Close
TN our issue for May 8th we dealt very fully with the new Yorkshire six-wheeled steam wagon, but owing to exigencies of space we were unable to include the accompanying plan view of the chassis, which, it will be seen, shows very clearly the layout, consisting of a two-cylindered compound engine with a single shaft having Hermetic joints leading to the distribution gearbox and the separate propeller shafts with block-and-die cardan joints. It also shows the position of the two large-capacity water tanks.
Despite the fact that this new model has only recently been brought out, it has already received a most encouraging welcome, a definite order for six having been received during the first week, thus proving what a good opinion is held of
this machine by the prominent user who has placed the order. It is most probable that other orders have been placed since then, but that referred to is particularly worthy of mention.
We believe that the adoption of the six-wheel principle of construction on steam chassis will do much to assist in promoting the popularity of this means for transport.