A Motorvan with Shop Window Sides.
12th June 1928
Page 60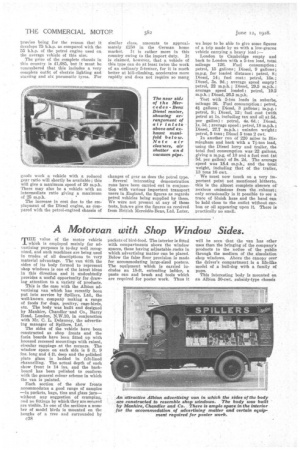 Page 60, 12th June 1928 —
A Motorvan with Shop Window Sides.
Close
THE value of the motor vehicle which is employed mainly for adertising purposes is to-day well recognized, and such machines are being used in trades of all descriptions to very material advantage. The van With the sides of its body formed to represent shop windows is one of the latest ideas in this direction and it undoubtedly provides a useful opportunity for drawing attention to a variety of products.
This is the case with the Albion advertising van which has recently been put into service 14 Spillers, Ltd., the well-known company making a range of foods for dogs, poultry, cage-birds, etc. The body was built and designed by Manhire, Chandler -and Co., Barry Road, London, N.W.10, in conjunction with Mr. C. L. Delauney, the advertising manager of Spillers, Ltd.
The sides of the vehicle have been constructed as shop fronts and the facia boards have been fitted up with bronzed recessed mountings with raised, circular cappings at the corners. The window space on each side is 8 ft. 9 ins. long and 4 ft. deep and the polished plate glass is bedded in felt-lined channelling. The actual depth of each show front is 14 ins, and the backboard has been polished to conform with the general colour scheme in which the van is painted.
Each section of the show fronts accommodates a good range of samples —in packets, bags, tins and glass jars— without any suggestion of cramping, and no fittings by which they are secured are visible. In one of the sections a number of model birds is mounted on the boughs of a tree and surrounded by
C38 packets of bird-food. The interior is fitted with compartments above the window spaces, these having adjustable racks in which advertising matter can be placed. Below the false floor provision is made for accommodating large-sized posters. The equipment which is carried includes an 18-ft. extending ladder, a paste can and brush and tools which are required for poster work. Thus it will be seen that the van has other uses than the bringing of the company's products to the notice of the public through the medium of the simulation shop windows. Above the canopy over the driver's compartment is a life-like model of a bull-dog with a family of Pups.
This interesting body is mounted on an Albion 30-cwt, subsidy-type chassis