Clearing Bush Land by Six-wheekr.
12th June 1928
Page 53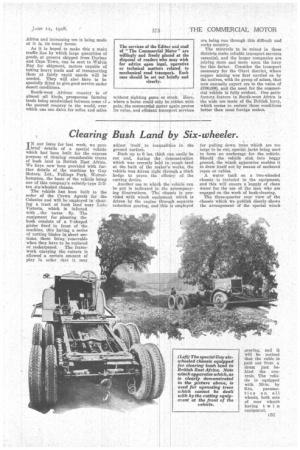 Page 53, 12th June 1928 —
Clearing Bush Land by Six-wheekr.
Close
TN our issue for last week, we gave 'brief details of a special vehicle which had been built for the express purpose of clearing considerable tracts of bush land in British East Africa. We haye now been provided with further details of the machine by Guy Motors, Ltd_, Fallings Park, Wolverhampton the basis of the vehicle being one of this company's subsidy-type 3/5ton six-wheeled chassis.
The vehicle has been built to the order of the Crown Agents for the Colonies and will be employed in clearing a tract of bush land near Lake Victoria, which is infected with _the tsetse fly. The equipment for telearing the bush consists of a V-shaped girder fixed in front of the machine, this having a series of cutting blades in short sections, these being removable when they have to be replaced or resharpened. The framework carrying the cutters is allowed a certain amount of play in order, that it may
adjust itself to inequalities in the ground surface.
Bush up to 6 ins. thick can easily be cut and, during the demonstration which was recently held in rough -land at the back of the maker's works, the vehicle was driven right through a thick hedge to prove the efficacy of the cutting device.
Another use to which the vehicle can be put is indicated in the accompanying illustrations. The chassis is provided with winch equipment which is driven by the engine through separate reduction gearing, and this is employed for pulling down trees which are too large to be cut, special jacks being used to form an anchorage for the vehicle. Should the vehicle sink into boggy ground, the winch apparatus enables it to draw itself out by means of anchored ropes or cables. '
A water tank on a two-wheeled chassis is included in the equipment, and this will ensure a 4supply of clean water for the use of the men who are engaged on the work of bush-clearing.
The three-quarter rear view of the chassis which we publish clearly shows the arrangement of the special winch