One Hears
12th June 1913
Page 9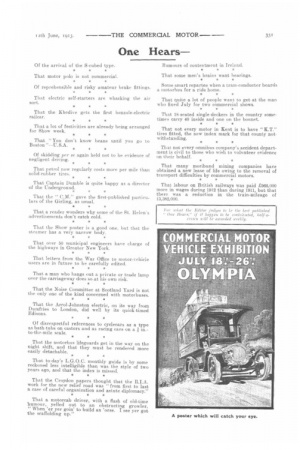 Page 9, 12th June 1913 —
One Hears
Close
Of the arrival of the S-cubed type. That motor polo is not commercial.
Of reprehensible and risky amateur brake fittings.
That electric self-starters are whacking the air sort.
That the Khedive gets the first benzole-electric railcar.
That a lot of festivities are already being arranged for Show week.
That " You don't know beans until you go to Boston "—U.S.A.
Of skidding per se again held not to be evidence of negligent driving_ That petrol now regularly costs more per mile than solid-rubber tires.
That Captain Durable is quite happy as a director of the Underground.
That the " CAL" gave the first-published particulars of the Girling, as usual.
That a reader wonders why some of the St. Helen's advertisements don't catch cold.
That the Show poster is a good one, but that the steamer has a very narrow body.
That over 50 municipal engineers have charge of the highways in Greater New York.
That letters from the 'War Office to motor-vehicle users are in future to be carefully edited.
That a man who hangs out a private or trade lamp over the carriageway does so at his own risk.
That the Noise Committee at Scotland Yard is not the only one of the kind concerned with motorbuses.
That the Arrol-Johnston electric, on its way from Dumfties to London, did well by its quick-timed Edisons.
Of disrespectful references to cycleears as a type as bath-tubs on castors and as racing cars on a g in.to-the-mile scale.
That the utotorbus lifeguards get in the way on the night shift, and that they must be rendered more easily detachable.
That to-day's L.G.O.C, monthly guide is by some reckoned less intelligible than was the style of two years ago, and that the index is missed.
That the Croydon papers thought that the R.I.A. work for the new relief road was " from first to last a case of careful organization and astute diplomacy."
That a motorcab driver, with a flash of old-time humour, yelled out to an obstructing growler, "When 'er yer goin' to build an 'orse. I see yer got the scaffolding up." Rumours of contentment in Ireland. That some men's brains want bearings.
Sonic smart repartee when a train-conductor boards a motorbus for a ride home.
That quite a lot of people want to get at the man who fixed July for two commercial shows.
That 18-seated single-deckers in the country sometimes carry 90 inside and one on the bonnet.
That not every motor in Kent is to have "K.T." tires fitted, the new index mark for that county notwithstanding.
That not every omnibus company's accidont department is civil to those who wish to volunteer evidence on their behalf.
That many moribund mining companies have obtained a new lease of life owing to the removal of transport difficulties by commercial motors.
That labour on British railways was paid £966,000 more in wages during 1912 than during 1911, but that there was a reduction in the train-mileage of 13,382,000.