in Public Service.
12th June 1913
Page 8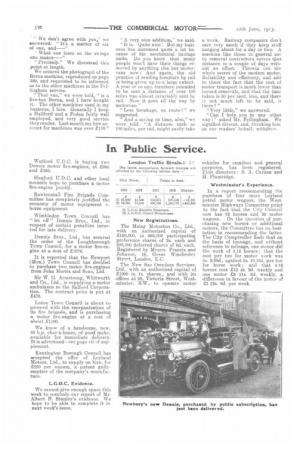 Page 8, 12th June 1913 —
in Public Service.
Close
Watford U.D.C. is buying two Dennis motor fire-engines, at £995 and £890.
Sleaford U.D.C. and other local councils hope to purchase a motor fire-engine jointly.
Rawtenstall Fire Brigade Committee has completely justified the economy of motor equipment v. horse equipment.
'Wimbledon Town Council has "let off" Dennis Bros., Ltd., in respect of certain penalties incurred for late delivery.
Dennis Bros., Ltd., has secured the order of the Loughborough Town Council, for a motor fire-engine at a cost of £1076.
It is reported that the Newport (Mon.) Town Council has decided to purchase two motor fire-engines from John Morris and Sons, Ltd.
Sir W. G. Armstrong, Whitworth and (Jo., Ltd., is supplying a motor ambulance to the Salford Corporation. The contract price is put at 2470.
Luton Town Council is about to proceed with the reorganization of its fire brigade, and is purchasing a motor fire-engine at a cost of about 21100.
We know of a handsome, new, 40 h.p. char-h-bancs, of good make, available for immediate delivery. It is advertised—see page vii of supplement.
Kensington Borough Council has accepted the offer of Leyland Motors, Ltd., to supply on hire, for £250 per annum, a patent gullyemptier of the company's manufacture.
L.G.O.C. Evidence.
We cannot give enough space this week to conclude our report of Mr. Albert Ff. Stanley's evidence. We hope to be able to complete it in next week's issue. The Malay Motorbus Co., Ltd., with an authorized capital of £100,000, in 995,000 participating preference shares of 2s. each and 200,000 deferred shares of 6d. each. Registered by Messrs. Francis and Johnson, 19, Great Winchester Street, London, E.C.
The New Sac Omnibus Services. Ltd., with an authorized capital of 21000 in Is. shares., and with its offices at 98, Victoria Street, Westminster, S.W., to operate motor
vehicles for omnibus and general purposes, has been registered. First directors : S. A. Curzon and H. Plumridge.
Westminster's Experience.
In a report recommending the purchase of four more Leyland petrol motor wagons, the Westminster Highways Committee point to the fact that the City Council now has 82 horses and 20 motor wagons. On the question of purchasing new horses or additional motors, the Committee has no hesitation in recommending the latter. The City Comptroller finds that on the basis of tonnage, and without reference to mileage, one motor did the work of 4.12 horses ; that the cost per ton for motor work was 2s. 9.28d., against 3s. 10.12d. per ton for horse work ; and that 4.12 horses cost 213 4s. 2d. weekly and one motor 29 us. 6d. weekly, a, difference in favour of the motor of 23 12s. Bd. per week.