A sharp turn te3 the left on leaving Brighton railway
12th June 1913
Page 7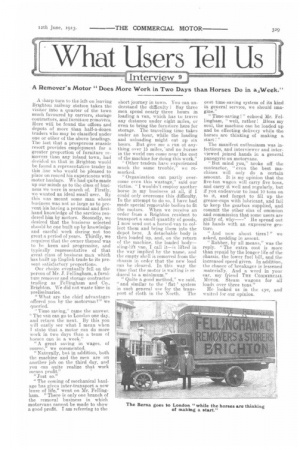 Page 8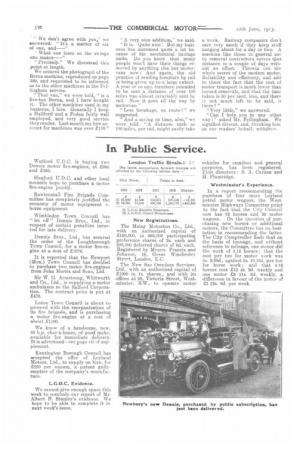 Page 7, 12th June 1913 —
A sharp turn te3 the left on leaving Brighton railway
Close
station takes the visitor into a quarter of the town much favoured by carriers, _storage contractors, and furniture remoVerS. Here will be found the offices and depots of more than half-a-dozen traders who may be classified under one or other of the above headings. The laet that a prosperous seaside resort provides employment for a greater proportion of furniture removers than any inland town, had decided us that in Brighton would be found a representative trader in tins line who would be pleased to place on record his experiences with motor haulage. We had quite made up our minds as to the class of business we were in search of. Firstly, we wanted an ideal small user. By this was meant some man whose business was not so large as to prevent his having a personal and firsthand knowledge of the services rendered him by motors. Secondly, we desired that the business selected should be one built up by knowledge and careful work during not too great a period of years. Thirdly, we required that the owner thereof was to be keen and progressive, and typically representative of that great class of business man which has built up English trade to its present satisfactory proportions. Our choice eventually fell on the person of Mr. J. Fellingham, a furniture remover and storage contractor trading as Fellingham and Co., Brighton. We did not waste time in preliminaries. "What are the chief advantages offered you by the motorvanl " we queried.
Time saving," came the answer. The van can go to London one day. and return the next. By this you will easily see what I mean when T state that a motor can do more work in two days than a team of horses can in a week."
" A great saving in wages, of course," we commented. " Naturally, but in addition, both the machine and the men are on another job on the third day, and you can quite realize that work means profit."
"Just so."
"The coming of mechanical haulage has given inter-transport a new lease of life," went on Mr. Fellingham. "There is only one branch of the removal business in which motorvans cannot be made to show a good profit. I am referring to the short journey in town. You can understand the difficulty '? Say three men spend nearly three hours in loading a van, wilich has to travel any distance under eight miles, or even to bring the furniture here for storage. The travelling time takes under an hour, while the loading and unloading might eat up six hours. But give me a run of anything over 15 miles, and no horses in the world can come near the cost of the machine for doing this work."
" Other traders have experienced much the same trouble," we remarked.
"Organization can partly overcome even this wastage," said our victim. "I wouldn't employ another horse in my business at all, if I could only overcome this difficulty. In the attempt to do so. I have had made special removable bodies to fit the motors. When we receive an order from a Brighton resident to transport a small quantity of goods, I now send out a horsed-van to collect them and bring them into the depot here. A detachable body is then loaded up, and, on the return of the machine, the loaded bodysling-lift van, I call it—is lifted in the way implied by the name, and the empty shell is removed from the chassis in order that the new load can he cleared. In this way the time that the motor is waiting is reduced to a minimum."
"Quite a good method," we said, "and similar to the ' fiat ' system in such general use for the trans port of cloth in the North. The oest time-saving system of its kind in general service, we should imagine."
" Time-saving I" echoed Mr. Fellingha.m, "well, rather Bless my Soul, the machine can be loaded up and be effecting delivery while the, horses are thinking of making a start The manifest enthusiasm was infectious, and interviewer and interviewed joined hands in a general panegyric on motorvans.
"But mind you," broke off the
contractor, even the best machines will only do . a certain amount. It. is my opinion that the five-ton wagon will carry five tons,. and carry it well and regularly, but if you endeavour to load 10 tons on to it, and forget to fill up the grease-cups with lubricant, and fail to keep the gearbox supplied, and commit the other sins of omission and commission that some users are guilty of, why--" He spread out his hands with an expressive gesture.
"And now about tires? " we asked, nodding in assent.
"Rubber, by all means," was the reply. "The extra cost is more than repaid by the longer life of the chassis, the lower fuel bill, and the increased speed given. In addition, the chance of breakages is lessened materially. And a word in your ear, my friend THE COMMERCIAL MOTOR. Steam wagons for all loads over three tons."
He looked us in the eye, and' waited for our opinion.
We don't agree with you," we answered; "It's a matter of six of one, and—" What one loses on the swings one makes—"
"Precisely." We discussed this point at length.
We secured the photograph of the Berna machine, reproduced on page 329, and requested to be informed as to the other machines in the Fellingliam service.
"That van," we were told, " is a five-ton Berna, and I have bought it. The other machines used in my business, I hire. Generally I keep a Hanford and a Foden fairly well employed, and very good service they render. Last month my hire account for machines was over 2100." "A very nice addition," we said.
"It is. Quite nice ! But my business has increased quite a lot because of the mechanical haulage units. Do you know that many people won't have their things removed by anything else but motorvans now I And again, the old practice of sending furniture by rail is being given up to a large extent. A year or so ago, furniture intended to be sent a. distance of Over 100 miles was ahnost invariably sent by rail. Now it goes all the way by motorvan."
"Less breakage, en route ? " we suggested. " And a saving on time, also," we were told. "A distance such as 100 miles, per rail, might easily take
a week. Railway companies don't care very much if they keep stuff hanging about for a day or two. A machine like those in general use by removal contractors covers that distance in a couple of days without an effort. Therein lies the whole secret of the modern motor. Reliability and efficiency, and add to these the fact that the cost of motor transport is much lower than horsed removals; and that the time taken is 50 per cent. less, and there is not much left to be said, is there'? "
"Very little," we answered. "Can I help you in any other way 1" asked Mr. Fellingham. We signified dissent, and, thanking him on our readers' behalf, withdrew.