Answers to Queries.
12th June 1913
Page 28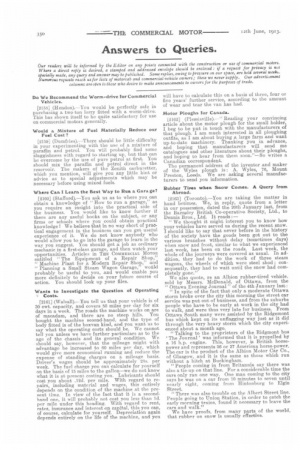 Page 28, 12th June 1913 —
Answers to Queries.
Close
Our readers will be informed by the Editor on any points connected with the construction or use of commercial motors. Where a direct reply is desired, a stamped and addressed envelope should be enclosed : if a request for privacy is not specially made, any query and answer may be published. Some replies, owing to pressure on our space, are held several weeks. Numerous requests reach us for lists of motorcab and commercial-vehicle owners; these we never supply. Our advertiement
columns are open to those who desire to make announcements to owners for the Purposes of trade.
Do We Recommend the Worm-drive for Commercial Vehicles.
[2158] (Hendon).—You would be perfectly safe in purchasing a two-ton lorry fitted with a worm-drive. This has shown itself to be quite satisfactory for use on commercial motors generally.
Would a Mixture of Fuel Materially Reduce our Fuel Cost ?
[2159] (Dunafries).—There should be little difficulty in your experimenting with the use of a mixture of paraffin and petrol. You will probably find some sluggishness with regard to starting up, but that can be overcome by the use of pure petrol at first. You should mix the paraffin and petrol direct in the reservoir. The makers of the Zenith carburetter, which you mention, will give you any little hint or advice as to special adjustments which may be necessary before using mixed fuels.
Where Can I Learn the Best Way to Run a Gara ge?
[2160] (Stafford).—You ask us as to where you can obtain a knowledge of " How to run a garage," as you require an insight into the practical side of the business. You would like to know further if there are any useful books on the subject, or any firms or schools where you could obtain practical knowledge ? We believe that in no way short of practical engagement in the business can you get useful experience of it. We do not know anybody who would allow you to go into the garage to learn in the way you suggest. You should get a job as ordinary mechanic in a first-class garage, and then watch your opportunities. Articles. in THE COMMERCIAL MOTOR entitled " The Equipment of a Repair Shop," "Machine Plant for a Modern Repair Shop," and "Planning a Small Steam Wagon Garage," wonld probably be useful to you, and would enable you more definitely to decide on your future course of action. You should look up your files.
Wants to Investigate the Question of Operating +Costs.
[2161] (Walsall).—You tell us that your vehicle is of 30 cwt. capacity, and covers 50 miles per day for six days in a week. The roads the machine works on are of macadam, and there are no steep hills. You bought the machine second-hand, and the type of body fitted is of the boxyan kind, and you want us to say what the operating costs should be. We cannot tell you unless we have further particulars as to the age of the chassis and its general condition. We should say, however, that the mileage might with advantage be increased to 60 miles per day, which would give more economical running and reduce the expense of standing charges on a mileage basis. Driver's wages should be approximately 28s. per week. The fuel charge you can calculate for yourself on the basis of 15 miles to the gallon—we do not know what it is at present costing you. Lubricants should cost you about .12d. per mile. With regard to repairs, including material and wages, this entirely depends on the condition of the machine at the present time. In view of the fact that it is a secondhand one, it will probably not cost you less than 1d. per mile under this heading. With regard to rent, rates, insurance and interest on capital, this you can, of course, calculate for yourself. Depreciation again depends entirely on the life of the machine, and you will have to calculate this on a basis of three, four or five years' further service, according to the amount of wear and tear the van has had.
Motor Ploughs for Canada.
[2162] (Plessisville).-" Reading your convincing article about the motor plough for the small holder, I beg to be put in touch with the manufacturers of that plough. I am much interested in all ploughing outfits, as I am about buying a large farm and want up-to-date machinery. Thanking you in advance, and hoping that manufacturers will send me catalogues and other literature about their ploughs, and hoping to hear from them soon."—So writes a Canadian correspondent.
The permanent address of the inventor and maker of the Wyles plough is : A. Wyles, 76, Mount Preston Leeds. We are asking several manufacturers 1.:o send you information.
Rubber Tires when Snow Comes. A Query from Abroad.
[2163] (Toronto).—You are taking the matter in hand betimes. We, in reply, quote from a letter in our possession, dated the 20th January last, from the Barnsley British Co-operative Society, Ltd., to Dennis Bros., Ltd. It reads:— " We thought it might interest you to know how your vehicles have served us during the recent snow. I should like to say that never before in the history of the society have the goods been got out to the various branches without delay (sometimes days) when snow and frost, similar to what we experienced last week, has been on the roads. Last week, the whole of the journeys were covered as usual. In addition, they had to do the work of three steam wagons, the wheels of which were steel shod ; consequently, they had to wait until the snow had completely gone." We also quote, re an Albion rubber-tired vehicle, sold by Messrs. McDonald, of Ottawa, from the "Ottawa Evening Journal" of the 4th January last : "In spite of the fact that only a moderate Ottawa storm broke over the city this morning the street car service was put out of business, and from the suburbs people who have to be early at work in the city had to walk, and were thus very late for business. From Ottawa South many were assisted by the Ridgemont bus which kept on its unflagging way just as it did through the very heavy storm which the city experienced about a month ago. " Talking to the proprietors of the Ridgmont bus The Journal' was informed that it is propelled by a 16 h.p. engine. This, however, is British horsepower and represents 36 or 37 American horse-power. The car is the product of the Albion Motor Car Co., of Glasgow, and it is the same as those which run without a hitch at Buckingham. "People coming in from Britannia say there was also a tie-up on that line. For a considerable time the cars only ran one way. One man coming to the city says he was on a car from 10 minutes to seven until nearly eight, coming from Hintonburg to Elgin Street.
"There was also trouble on the Albert Street line. People going to Union Station, in order to catch the early morning trains, found it necessary to leave the cars and walk."
We have proofs, from many parts of the world, that rubber on snow is usually effective.