WHAT USERS OF LONG EXPERIENCE TELL US.
12th June 1913
Page 16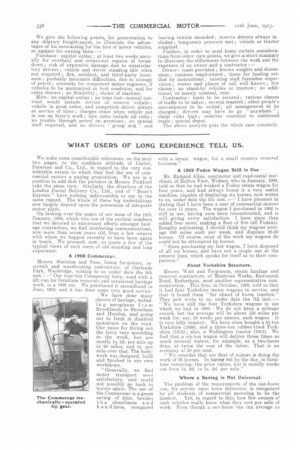 Page 17
Page 16, 12th June 1913 —
WHAT USERS OF LONG EXPERIENCE TELL US.
Close
We make some considerable references, on the next two pages, to the confident attitude of Carter, Paterson and Co., Ltd., in regard to the very considerable extent to which they find the use of commercial motors a paying proposition. We are in a position to add that the partners in Messrs. Pickforcl take the same view. Similarly, the directors of the London Parcel Delivery Co., Ltd., and of "Bean's Express" have nothing unfavourable to say in the same regard. The whole of these big undertakings now largely depend upon the possession of adequate motor plant.
On looking over the pages of our issue of the 18th January, 1906, which was one of the earliest numbers that we devoted to missionary efforts amongst haulage contractors, we find interesting communications, now more than seven years old, from a few owners with whom we happen recently to have been again in touch. We proceed, now, to quote a few of the typical views of such users of old standing and long experience.
A 1908 Commercar.
Messrs. Stainton and Sons, house furnishers, removals and warehousing contractors, of OatIands Park, Weybridge, writing to us under date the 9th inst.: —" Our four-ton Commerear lorry, used with a lift-van for furniture removals and occasional haulage work, is a 1908 car. We purchased it secondhand in
Jun i June, 1912, and t has done some very good service. We have done many classes of haulage, includn g aeroplanes f r o m Brooklancis to Shoreham and Hendon, and going out to fetch in disabled motorcars on the road. Our rates for hiring out the lorry vary according to the work, but are mostly is. 3d, per mile up to 25 miles, arid is. per mile over that. The bodywork was designed, built and finished in our own workshops.
"Generally, we find motor transport most satisfactory, and could not possibly go back to horses again. The use of theCornmercar is a great saving of time, besides t h e cleanliness a n d hand bless, compared
with a steam wagon, for a small country removal bti siness."
A 1902 Foden Wagon Still in Use.
Mr, Richard Allen, contractor and road-metal merchant, of Halton View, Widnes, who in January, 1906, told us that he had worked a. Foden steam wagon for four years, and had always found it a very useful machine, capable of displacing six horses, now writes to us, under date the 5th inst. :—" I have pleasure in stating that I have been a user of commercial motors for over 11 years. The wagon I purchased in 1902 is still in use, having once been reconstructed, and is still giving every satisfaction. I have since then added four morei making a fleet of five (all Fodens). Roughly estimating, I should think my wagons average 250 miles each per week, and displace 25-30 horses. Of course, most of the work my wagons do could not be attempted by horses.
"Since purchasing my last wagon, I have disposed of all my horses, and have not a single one at the present time, which speaks for itself as to their comparison."
About Yorkshire Steamers.
Messrs. Watt and Fergusson, steam haulage and removal contractors, of Montrose Works, Rawmarsh Road, Rotherham, send another representative communication. This firm, in October, 1908, told us that it had four Yorkshire steam wagons in service, and that it found them "far ahead of horse traction." They now write to us, under date the 7th inst. :— " We have still the four Yorkshire wagons in use which we had in 1908. We do not keep a mileage record, but the average will be about 150 miles per week for. say, 50 weeks per annum, each wagon. It is very hilly country. We have since bought a 217-ton Yorkshire (1909), and a three-ton rubber-tired Yorkshire (1913); also, a Wellington tractor (1911). We find that a six-ton wagon will deliver three times as much mineral waters, for example, as a two-horse dray, at twice the cost of the latter. That is an economy of 50 per cent.
" We consider that our fleet of motors is doing the work of 35 horses, In hiring out by the day, in furniture removing, the price varies, but it usually works out from is. 2d. to Is. 3d. per mile."
Where a Saving is Not Universal.
The problem of the requirements of the one-horse van, for service upon town deliveries, is recognized by all students of commercial motoring to be the hardest. Yet, in regard to this, how few owners of such vehicles really know what they cost per mile of work. Even though a one-horse van can average as
much as 100 miles of work per week, the cost will come out at not less than 50. per mile, and frequently as high as 7d. per mile. Let anybody who doubts this record check his own. In numerous instances of town work, the mileage is only 70, and the cost per mile as high as 9d. We are prompted to write thus, because several letters to hand make reference to the difficulties of this problem.
The claims of the smaller types of petrol-driven and accumulator-propelled rnotorvans must be considered in competition. As our costs for the petrol types show, which particulars have been given by -us on page 337, provided a high mileage can be arranged by the substitution of one vehicle for a number of horsedrawn vehicles, two tons of useful load can be carried before the lowest of the horse figures is exceeded.
When we come to deal with a ease in which it is impossible to arrange that one van shall get a mileage of more than the 20 miles which can be undertaken effectively by a horse in one day, on five days a week, or say a maximum of 100 miles per week, it is necessary to analyse the motor costs into what we may term quantity costs per mile, and weekly outgo independent of mileage.