Stralis gains that
12th July 2012
Page 8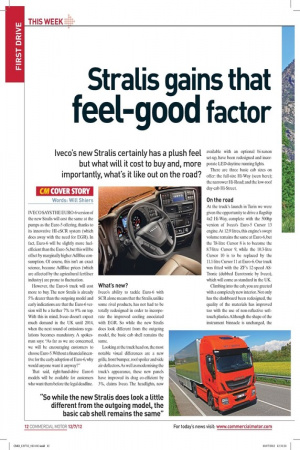 Page 8, 12th July 2012 —
Stralis gains that
Close
feel-good factor
Iveco's new Stralis certainly has a plush feel but what will it cost to buy and, more importantly, what's it like out on the road?
Words: Will Shiers
IVECO SAYS THE EURO-6 version of the new Stralis will cost the same at the pumps as the Euro-5 offering, thanks to its innovative HI-eSCR system (which does away with the need for EGR). In fact, Euro-6 will be slightly more fuelefficient than the Euro-5s, but this will be offset by marginally higher AdBlue consumption. Of course, this isn't an exact science, because AdBlue prices (which are affected by the agricultural fertiliser industry) are prone to fluctuation.
However, the Euro-6 truck will cost more to buy. The new Stralis is already 5% dearer than the outgoing model and early indications are that the Euro-6 version will be a further 7% to 9% on top. With this in mind, Iveco doesn't expect much demand in the UK until 2014, when the next round of emissions regulations becomes mandatory. A spokesman says: "As far as we are concerned, we will be encouraging customers to choose Euro-5. Without a financial incentive for the early adoption of Euro-6, why would anyone want it anyway?" That said, right-hand-drive Euro-6 models will be available for customers who want them before the legal deadline.
What's new?
Iveco's ability to tackle Euro-6 with SCR alone means that the Stralis, unlike some rival products, has not had to be totally redesigned in order to incorporate the improved cooling associated with EGR. So while the new Stralis does look different from the outgoing model, the basic cab shell remains the same.
Looking at the truck head on, the most notable visual differences are a new grille, front bumper, roof spoiler and side air-deflectors. As well as modernising the truck's appearance, these new panels have improved its drag co-efficient by 3%, claims Iveco. The headlights, now available with an optional bi-xenon set-up, have been redesigned and incorporate LED daytime running lights.
There are three basic cab sizes on offer: the full-size Hi-Way (seen here); the narrower Hi-Road; and the low-roof day-cab Hi-Street.
On the road