The week that was
12th July 2012
Page 7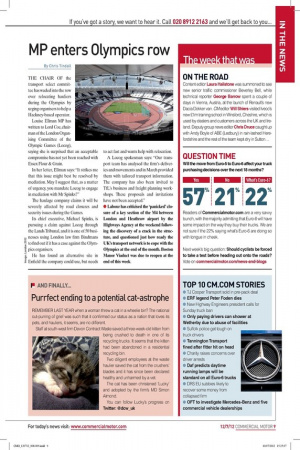 Page 7, 12th July 2012 —
The week that was
Close
ON THE ROAD
Content editor Laura Hailstone was summoned to see new senior traffic commissioner Beverley Bell, while technical reporter George Barrow spent a couple of days in Vienna, Austria, at the launch of Renault's new Dacia Dokker van. CM editor Will Shiers visited Iveco's new £1m training school in Winsford, Cheshire, which is used by dealers and customers across the UK and Ireland. Deputy group news editor Chris Druce caught up with Andy Boyle of ABE (Ledbury) in rain-lashed Herefordshire and the rest of the team kept dry in Sutton...
QUESTION TIME
Will the move from Euro-5 to Euro-6 affect your truck purchasing decisions over the next 18 months?
Yes No What's Euro-6?
57% 21% 22%
Readers of Commercialmotor.com are a very savvy bunch, with the majority admitting that Euro-6 will have some impact on the way they buy their trucks. We are not sure if the 22% saying what's Euro-6 are doing so with tongue in cheek.
Next week's big question: Should cyclists be forced to take a test before heading out onto the roads? Vote on commercialmotor.com/news-and-blogs
TOP 10 CM.COM STORIES
• TJ Cooper Transport sold in pre-pack deal • ERF legend Peter Foden dies • New Highway Engineers president calls for Sunday truck ban • Only paying drivers can shower at Wetherby due to abuse of facilities • Suffolk police get tough on truck drivers • Tannington Transport fined after fitter hit on head • Charity raises concerns over driver arrests • Daf predicts daytime running lamps will be standard on all Euro-6 trucks • DRS EU subbies likely to recover some money from collapsed firm • OFT to investigate Mercedes-Benz and five commercial vehicle dealerships