DHL driver Edward Fowell
12th July 2012
Page 5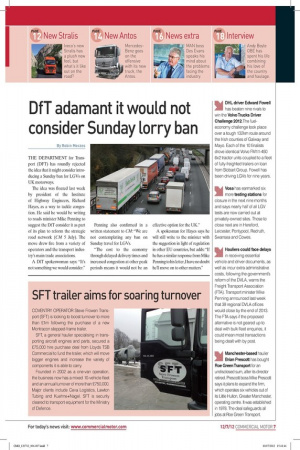 Page 5, 12th July 2012 —
DHL driver Edward Fowell
Close
has beaten nine rivals to win the Volvo Trucks Driver Challenge 2012.The fueleconomy challenge took place over a tough 132km route around the Irish counties of Galway and Mayo. Each of the 10 finalists drove identical Volvo FM11-450 6x2 tractor units coupled to a fleet of fully-freighted trailers on loan from Stobart Group. Fowell has been driving LGVs for nine years.
Vosa has earmarked six more testing stations for closure in the next nine months and says nearly half of all LGV tests are now carried out at privately-owned sites. Those to close next are in Hereford, Leicester, Pontypool, Redruth, Swansea and Cowes.
Hauliers could face delays in receiving essential vehicle and driver documents, as well as incur extra administrative costs, following the government's reform of the DVLA, warns the Freight Transport Association (FTA). Transport minister Mike Penning announced last week that 39 regional DVLA offices would close by the end of 2013. The FTA says if the proposed alternative is not geared up to deal with bulk fleet enquiries, it could mean most transactions being dealt with by post.
Manchester-based haulier Brian Prescott has bought Roe Green Transport for an undisclosed sum, after its director retired. Prescott boss Mike Prescott says it plans to expand the firm, which operates six vehicles out of its Little Hulton, Greater Manchester, operating centre. It was established in 1978. The deal safeguards all jobs at Roe Green Transport.