Continental drift
12th July 2012
Page 40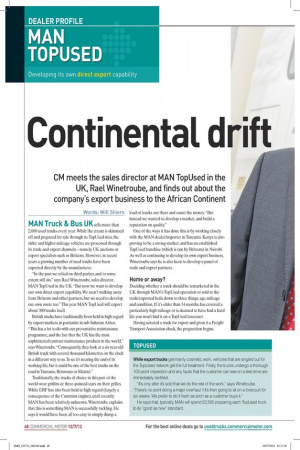 Page 41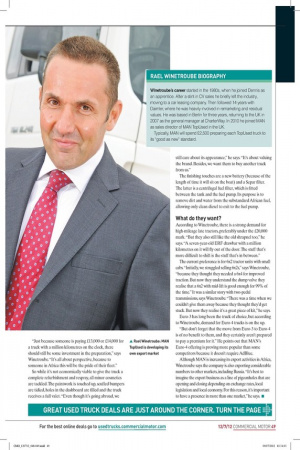 Page 40, 12th July 2012 —
Continental drift
Close
CM meets the sales director at MAN TopUsed in the UK, Rael Winetroube, and finds out about the company's export business to the African Continent
Words: Will Shiers
MAN Truck & Bus UK sells more than 2,000 used trucks every year. While the cream is skimmed off and prepared for sale through its TopUsed sites, the older and higher-mileage vehicles are processed through its trade and export channels – namely UK auctions or export specialists such as Britcom. However, in recent years a growing number of used trucks have been exported directly by the manufacturer.
"In the past we relied on third parties, and to some extent still do," says Rael Winetroube, sales director, MAN TopUsed in the UK. "But now we want to develop our own direct export capability. We aren't walking away from Britcom and other partners, but we need to develop our own route too." This year MAN TopUsed will export about 300 trucks itself.
British trucks have traditionally been held in high regard by export markets, in particular in sub-Saharan Africa. "This has a lot to do with our preventative maintenance programme, and the fact that the UK has the most sophisticated contract maintenance products in the world," says Winetroube. "Consequently, they look at a six-year-old British truck with several thousand kilometres on the clock in a different way to us. To us it's nearing the end of its working life, but it could be one of the best trucks on the road in Tanzania, Botswana or Malawi." Traditionally, the trucks of choice in this part of the world wear griffins or three-pointed stars on their grilles. While ERF has also been held in high regard (largely a consequence of the Cummins engine), until recently MAN has been relatively unknown. Winetroube explains that this is something MAN is successfully tackling. He says it would have been all too easy to simply dump a load of trucks out there and count the money. "But instead we wanted to develop a market, and build a reputation on quality." One of the ways it has done this is by working closely with the MAN dealer/importer in Tanzania. Kenya is also proving to be a strong market, and has an established TopUsed franchise (which is run by Britcom) in Nairobi. As well as continuing to develop its own export business, Winetroube says he is also keen to develop a panel of trade and export partners.
Home or away?
Deciding whether a truck should be remarketed in the UK through MAN's TopUsed operation or sold to the trade/exported boils down to three things; age, mileage and condition. If it's older than 54 months, has covered a particularly high mileage or is deemed to have had a hard life you won't find it on a TopUsed forecourt.
Having selected a truck for export and given it a Freight Transport Association check, the preparation begins.
"Just because someone is paying £13,000 or £14,000 for a truck with a million kilometres on the clock, there should still be some investment in the preparation," says Winetroube. "It's all about perspective, because to someone in Africa this will be the pride of their fleet." So while it's not economically viable to give the truck a complete refurbishment and respray, all minor cosmetics are tackled. The paintwork is touched up, scuffed bumpers are tidied, holes in the dashboard are filled and the truck receives a full valet. "Even though it's going abroad, we still care about its appearance," he says. "It's about valuing the brand. Besides, we want them to buy another truck from us." The finishing touches are a new battery (because of the length of time it will sit on the boat) and a Separ filter. The latter is a centrifugal fuel filter, which is fitted between the tank and the fuel pump. Its purpose is to remove dirt and water from the substandard African fuel, allowing only clean diesel to exit to the fuel pump.
What do they want?
According to Winetroube, there is a strong demand for high-mileage late tractors, preferably under the £20,000 mark. "But they also still like the old shrapnel too," he says. "A seven-year-old ERF drawbar with a million kilometres on it will fly out of the door. The stuff that's more difficult to shift is the stuff that's in between." The current preference is for 6x2 tractor units with small cabs. "Initially, we struggled selling 6x2s," says Winetroube, "because they thought they needed a 6x4 for improved traction. But now they understand the dump valve they realise that a 6x2 with mid-lift is good enough for 99% of the time." It was a similar story with two-pedal transmissions, says Winetroube. "There was a time when we couldn't give them away because they thought they'd get stuck. But now they realise it's a great piece of kit," he says.
Euro-3 has long been the truck of choice, but according to Winetroube, demand for Euro-4 trucks is on the up.
"But don't forget that the move from Euro-3 to Euro-4 is of no benefit to them, and they certainly aren't prepared to pay a premium for it." He points out that MAN's Euro-4 offering is proving more popular than some competitors because it doesn't require AdBlue.
Although MAN is increasing its export activities in Africa, Winetroube says the company is also exporting considerable numbers to other markets, including Russia. "It's best to imagine the export business as a line of pigeonholes that are opening and closing depending on exchange rates, local legislation and local economy. For this reason, it's important to have a presence in more than one market," he says. n
TOPUSED
While export trucks get mainly cosmetic work, vehicles that are singled out for the TopUsed network get the full treatment. Firstly, the trucks undergo a thorough 103-point inspection and any faults that the customer can see on a test drive are immediately rectified.
"It's only after it's sold that we do the rest of the work," says Winetroube. "There's no point doing a major overhaul if it's then going to sit on a forecourt for six weeks. We prefer to do it fresh as soon as a customer buys it." He says that, typically, MAN will spend £2,500 preparing each TopUsed truck to its "good as new" standard.
RAEL WINETROUBE BIOGRAPHY
Winetroube's career started in the 1980s, when he joined Dennis as an apprentice. After a stint in CV sales he briefly left the industry, moving to a car leasing company. Then followed 14 years with Daimler, where he was heavily involved in remarketing and residual values. He was based in Berlin for three years, returning to the UK in 2007 as the general manager at CharterWay. In 2010 he joined MAN as sales director of MAN TopUsed in the UK.
Typically, MAN will spend £2,500 preparing each TopUsed truck to its "good as new" standard.