AFRICAN MARKET
12th July 2012
Page 36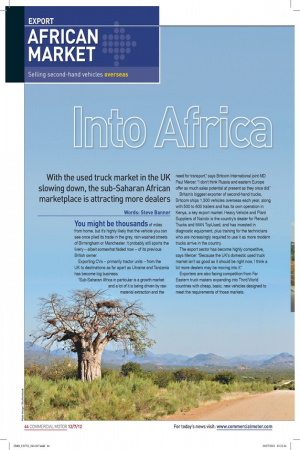 Page 37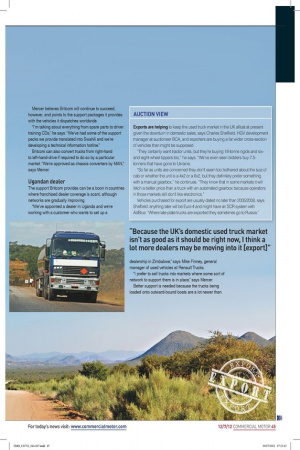 Page 38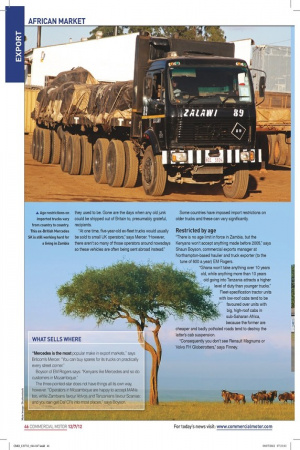 Page 39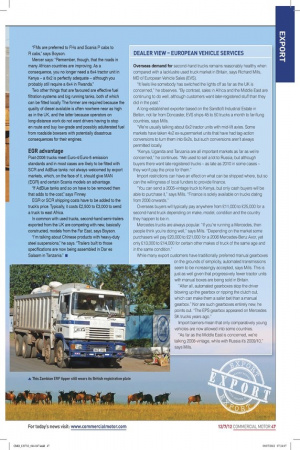 Page 36, 12th July 2012 —
AFRICAN MARKET
Close
Selling second-hand vehicles overseas
With the used truck market in the UK slowing down, the sub-Saharan African marketplace is attracting more dealers
Words: Steve Banner You might be thousands of miles from home, but it's highly likely that the vehicle you can see once plied its trade in the grey, rain-washed streets of Birmingham or Manchester. It probably still sports the livery – albeit somewhat faded now – of its previous British owner.
Exporting CVs – primarily tractor units – from the UK to destinations as far apart as Ukraine and Tanzania has become big business.
"Sub-Saharan Africa in particular is a growth market and a lot of it is being driven by raw material extraction and the need for transport," says Britcom International joint MD Paul Mercer. "I don't think Russia and eastern Europe offer as much sales potential at present as they once did." Britain's biggest exporter of second-hand trucks, Britcom ships 1,500 vehicles overseas each year, along with 500 to 600 trailers and has its own operation in Kenya, a key export market. Heavy Vehicle and Plant Suppliers of Nairobi is the country's dealer for Renault Trucks and MAN TopUsed, and has invested in diagnostic equipment, plus training for the technicians who are increasingly required to use it as more modern trucks arrive in the country.
The export sector has become highly competitive, says Mercer. "Because the UK's domestic used truck market isn't as good as it should be right now, I think a lot more dealers may be moving into it." Exporters are also facing competition from Far Eastern truck makers expanding into Third World countries with cheap, basic, new vehicles designed to meet the requirements of those markets. Mercer believes Britcom will continue to succeed, however, and points to the support packages it provides with the vehicles it dispatches worldwide.
"I'm talking about everything from spare parts to driver training CDs,' he says. "We've had some of the support packs we provide translated into Swahili and we're developing a technical information hotline.'
Britcom can also convert trucks from right-hand to left-hand-drive if required to do so by a particular market. "We're approved as chassis converters by MAN,' says Mercer.
Ugandan dealer
The support Britcom provides can be a boon in countries where franchised dealer coverage is scant, although networks are gradually improving.
"We've appointed a dealer in Uganda and we're working with a customer who wants to set up a dealership in Zimbabwe,' says Mike Finney, general manager of used vehicles at Renault Trucks.
"I prefer to sell trucks into markets where some sort of network to support them is in place,' says Mercer.
Better support is needed because the trucks being loaded onto outward-bound boats are a lot newer than they used to be. Gone are the days when any old junk could be shipped out of Britain to, presumably grateful, recipients.
"At one time, five-year-old ex-fleet trucks would usually be sold to small UK operators," says Mercer. "However, there aren't so many of those operators around nowadays so these vehicles are often being sent abroad instead." Some countries have imposed import restrictions on older trucks and these can vary significantly.
Restricted by age
"There is no age limit in force in Zambia, but the Kenyans won't accept anything made before 2005," says Shaun Boyson, commercial exports manager at Northampton-based haulier and truck exporter (to the tune of 600 a year) EM Rogers.
"Ghana won't take anything over 10 years old, while anything more than 10 years old going into Tanzania attracts a higher level of duty than younger trucks." Fleet-specification tractor units with low-roof cabs tend to be favoured over units with big, high-roof cabs in sub-Saharan Africa, because the former are cheaper and badly potholed roads tend to destroy the latter's cab suspension.
"Consequently you don't see Renault Magnums or Volvo FH Globetrotters," says Finney. "FMs are preferred to FHs and Scania P cabs to R cabs," says Boyson.
Mercer says: "Remember, though, that the roads in many African countries are improving. As a consequence, you no longer need a 6x4 tractor unit in Kenya – a 6x2 is perfectly adequate – although you probably still require a 6x4 in Rwanda." Two other things that are favoured are effective fuel filtration systems and big running tanks, both of which can be fitted locally. The former are required because the quality of diesel available is often nowhere near as high as in the UK, and the latter because operators on long-distance work do not want drivers having to stop en route and buy low-grade and possibly adulterated fuel from roadside bowsers with potentially disastrous consequences for their engines.
EGR advantage
Post-2006 trucks meet Euro-4/Euro-5 emission standards and in most cases are likely to be fitted with SCR and AdBlue tanks: not always welcomed by export markets, which, on the face of it, should give MAN (EGR) and certain Scania models an advantage.
"If AdBlue tanks and so on have to be removed then that adds to the cost," says Finney.
EGR or SCR shipping costs have to be added to the truck's price. Typically, it costs £2,500 to £3,000 to send a truck to east Africa.
In common with used trucks, second-hand semi-trailers exported from the UK are competing with new, basically constructed, models from the Far East, says Boyson.
"I'm talking about Chinese products with heavy-duty steel suspensions," he says. "Trailers built to those specifications are now being assembled in Dar es Salaam in Tanzania." n
AUCTION VIEW
Exports are helping to keep the used truck market in the UK afloat at present given the downturn in domestic sales, says Charles Sheffield, HGV development manager at auctioneer BCA, and exporters are buying a far wider cross-section of vehicles than might be supposed.
"They certainly want tractor units, but they're buying 18-tonne rigids and sixand eight-wheel tippers too," he says. "We've even seen bidders buy 7.5tonners that have gone to Ukraine.
"So far as units are concerned they don't seem too bothered about the size of cab or whether the unit is a 4x2 or a 6x2, but they definitely prefer something with a manual gearbox," he continues. "They know that in some markets it will fetch a better price than a truck with an automated gearbox because operators in those markets still don't like electronics." Vehicles purchased for export are usually dated no later than 2005/2006, says Sheffield: anything later will be Euro-4 and might have an SCR system with AdBlue. "Where late-plate trucks are exported they sometimes go to Russia."
WHAT SELLS WHERE
"Mercedes is the most popular make in export markets," says Britcom's Mercer. "You can buy spares for its trucks on practically every street corner." Boyson of EM Rogers says: "Kenyans like Mercedes and so do customers in Mozambique." The three-pointed-star does not have things all its own way, however. "Operators in Mozambique are happy to accept MANs too, while Zambians favour Volvos and Tanzanians favour Scanias: and you can get Daf CFs into most places," says Boyson.
DEALER VIEW – EUROPEAN VEHICLE SERVICES
Overseas demand for second-hand trucks remains reasonably healthy when compared with a lacklustre used truck market in Britain, says Richard Mills, MD of European Vehicle Sales (EVS).
"It feels like somebody has switched the lights off as far as the UK is concerned," he observes. "By contrast, sales in Africa and the Middle East are continuing to do well, although customers want later-registered stuff than they did in the past." A long-established exporter based on the Sandtoft Industrial Estate in Belton, not far from Doncaster, EVS ships 45 to 50 trucks a month to far-flung countries, says Mills.
"We're usually talking about 6x2 tractor units with mid-lift axles. Some markets have taken 4x2 ex-supermarket units that have had tag-action conversions to turn them into 6x2s, but such conversions aren't always permitted locally.
"Kenya, Uganda and Tanzania are all important markets as far as we're concerned," he continues. "We used to sell a lot to Russia, but although buyers there want late-registered trucks – as late as 2010 in some cases – they won't pay the price for them." Import restrictions can have an effect on what can be shipped where, but so can the willingness of local funders to provide finance.
"You can send a 2005-vintage truck to Kenya, but only cash buyers will be able to purchase it," says Mills. "Finance is solely available on trucks dating from 2006 onwards." Overseas buyers will typically pay anywhere from £11,000 to £25,000 for a second-hand truck depending on make, model, condition and the country they happen to be in.
Mercedes trucks are always popular. "If you're running a Mercedes, then people think you're doing well," says Mills. "Depending on the market some purchasers will pay £20,000 to £21,000 for a 2006 Mercedes-Benz Axor, yet only £13,000 to £14,000 for certain other makes of truck of the same age and in the same condition." While many export customers have traditionally preferred manual gearboxes on the grounds of simplicity, automated transmissions seem to be increasingly accepted, says Mills. This is just as well given that progressively fewer tractor units with manual boxes are being sold in Britain.
"After all, automated gearboxes stop the driver blowing up the gearbox or ripping the clutch out, which can make them a safer bet than a manual gearbox." Nor are such gearboxes entirely new, he points out. "The EPS gearbox appeared on Mercedes SK trucks years ago." Import barriers mean that only comparatively young vehicles are now allowed into some countries.
"As far as the Middle East is concerned, we're talking 2008-vintage, while with Russia it's 2009/10," says Mills.