Moving with the times
12th July 2012
Page 27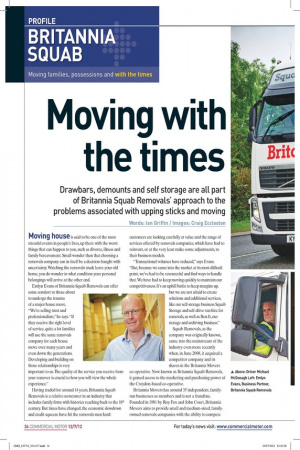 Page 28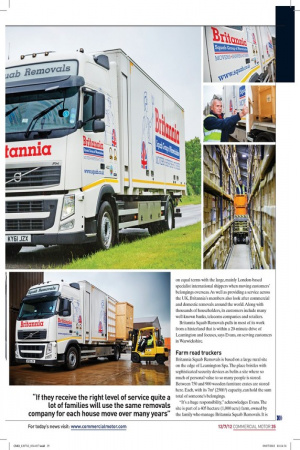 Page 29
Page 30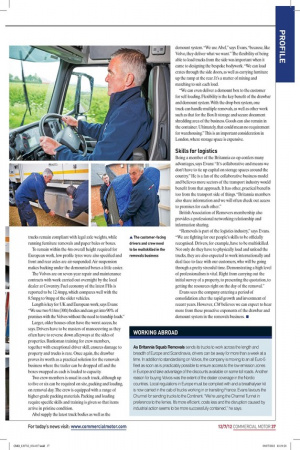 Page 27, 12th July 2012 —
Moving with the times
Close
Drawbars, demounts and self storage are all part of Britannia Squab Removals' approach to the problems associated with upping sticks and moving
Words: Ian Griffin / Images: Craig Eccleston Moving house is said to be one of the most stressful events in people's lives, up there with the worst things that can happen to you, such as divorce, illness and family bereavement. Small wonder then that choosing a removals company can in itself be a decision fraught with uncertainty. Watching the removals truck leave your old home, you do wonder in what condition your personal belongings will arrive at the other end.
Emlyn Evans of Britannia Squab Removals can offer some comfort to those about to undergo the trauma of a major house move. "We're selling trust and professionalism," he says. "If they receive the right level of service, quite a lot families will use the same removals company for each house move over many years and even down the generations. Developing and building on those relationships is very important to us. The quality of the service you receive from your remover is crucial to how you will view the whole experience." Having traded for around 14 years, Britannia Squab Removals is a relative newcomer in an industry that includes family firms with histories reaching back to the 18th century. But times have changed, the economic slowdown and credit squeeze have hit the removals men hard: customers are looking carefully at value and the range of services offered by removals companies, which have had to reinvent, or at the very least make some adjustments, to their business models.
"Transactional volumes have reduced," says Evans. "But, because we came into the market at its most difficult point, we've had to be resourceful and find ways to handle that. We have had to keep moving quickly to maintain our competitiveness. It's an uphill battle to keep margins up, but we are not afraid to create solutions and additional services, like our self-storage business Squab Storage and self-drive van hire for removals, as well as Box-It, our storage and archiving business." Squab Removals, as the company was originally known, came into the mainstream of the industry even more recently when, in June 2008, it acquired a competitor company and its shares in the Britannia Movers co-operative. Now known as Britannia Squab Removals, it gained access to the marketing and purchasing power of the Croydon-based co-operative.
Britannia Movers has around 35 independent, familyrun businesses as members and is not a franchise. Founded in 1981 by Roy Fox and John Court, Britannia Movers aims to provide small and medium-sized, familyowned removals companies with the ability to compete on equal terms with the large, mainly London-based specialist international shippers when moving customers' belongings overseas. As well as providing a service across the UK, Britannia's members also look after commercial and domestic removals around the world. Along with thousands of householders, its customers include many well-known banks, telecoms companies and retailers.
Britannia Squab Removals pulls in most of its work from a hinterland that is within a 20-minute drive of Leamington and focuses, says Evans, on serving customers in Warwickshire.
Farm road truckers
Britannia Squab Removals is based on a large rural site on the edge of Leamington Spa. The place bristles with sophisticated security devices as befits a site where so much of personal value to so many people is stored. Between 750 and 900 wooden furniture crates are stored here. Each, with its 7m3 (250ft3) capacity, can hold the sum total of someone's belongings.
"It's a huge responsibility," acknowledges Evans. The site is part of a 405 hectare (1,000 acre) farm, owned by the family who manage Britannia Squab Removals. It is close to the M40 and other transport links such as the A46 and M42. "We can get to Bristol and London within a reasonable time from Leamington," says Evans, and Manchester is only two hours away.
The storage buildings are purpose built. To enter some, you go down short ladders. "We dug deep to maximise the space," says Evans. The 'sheds' are clean inside with controlled humidity. Their pitched roofs and muted colours ensure they look like farm buildings and blend unobtrusively into the surrounding agricultural landscape.
The company is maximising the business on the one site. "There is a temptation to open additional depots. However, we want to develop as much business as we can from this single site. In some ways it's limiting, as we cannot take advantage of the scaleability that comes with expanding across multiple depots but, as a result of focusing on the Leamington site, we have been able to reinvest profits in the business with new buildings and new trucks.
"We have expanded rapidly over the last five years and, as a result, we now have modern and secure self-storage facilities together with a fleet of low-loader Renault Master Luton vans and the latest Volvo FH trucks." Evans is from the third generation of the family that moved from Wales to farm this area in the 1940s. The removals firm operates a fleet of six trucks, four Volvo FHs and two Daf CF 65 series. Three drawbar trailers are available for coupling to the prime movers. The oldest truck is a W-plate FH which is being replaced by a new FH on a 61-plate. The company keeps its vehicles for around 12 years so longevity and reliability are key.
Out on bale
Volvo has not been a traditional choice among removals companies but the proximity of the local dealer Volvo Truck and Bus Centre East Anglia, Coventry, was a factor in their purchase decision, says Evans, along with a keenness to create a bespoke truck specification to suit his company's exact requirements.
The latest trucks to join the fleet are two FH-420 4x2 drawbar rigids plated for 40-tonne operation. Specifications have been matched to the varying loads carried by the trucks, which can be used on removals and paper document transport, albeit with differently branded demountable box container bodies. The stacked or baled paper loads bring the trucks closer to their maximum gross plated weight much more often than the carriage of furniture. Diminishing loads are also an issue, making axle weight tolerance important.
Evans specified an uprated 9.5-tonne front axle on the Volvos rather than a three-axle configuration, saving weight and complexity over a low-capacity mid-lift. Wheelbases are kept as short as possible with the need for manoeuvrability while the uprated front axle ensures the trucks remain compliant with legal axle weights, while running furniture removals and paper bales or boxes.
To remain within the 4m overall height required for European work, low profile tyres were also specified and front and rear axles are air-suspended. Air suspension makes backing under the demounted boxes a little easier.
The Volvos are on seven-year repair and maintenance contracts with work carried out overnight by the local dealer at Coventry. Fuel economy of the latest FHs is reported to be 12.4mpg, which compares well with the 8.5mpg to 9mpg of the older vehicles.
Length is key for UK and European work, says Evans: "We use two 9.14m (30ft) bodies and can get into 90% of premises with the Volvos without the need to tranship loads." Larger, older houses often have the worst access, he says. Drivers have to be masters of manoeuvring as they often have to reverse down alleyways at the sides of properties. Banksman training for crew members, together with exceptional driver skill, ensures damage to property and trucks is rare. Once again, the drawbar proves its worth as a practical solution for the removals business where the trailer can be dropped off and the boxes swapped as each is loaded to capacity.
Two crew members is usual in each truck, although up to five or six can be required on site, packing and loading, on removal day. The crew is equipped with a range of higher-grade packing materials. Packing and loading require specific skills and training is given so that items arrive in pristine condition.
Abel supply the latest truck bodies as well as the demount system. "We use Abel," says Evans, "because, like Volvo, they deliver what we want." The flexibility of being able to load trucks from the side was important when it came to designing the bespoke bodywork. "We can load crates through the side doors, as well as carrying furniture up the ramp at the rear. It's a matter of mixing and matching to suit each load.
"We can even deliver a demount box to the customer for self-loading. Flexibility is the key benefit of the drawbar and demount system. With the drop box system, one truck can handle multiple removals, as well as other work such as that for the Box-It storage and secure document shredding area of the business. Goods can also remain in the container. Ultimately, that could mean no requirement for warehousing." This is an important consideration in London, where storage space is expensive.
Skills for logistics
Being a member of the Britannia co-op confers many advantages, says Evans: "It's collaborative and means we don't have to tie up capital on storage spaces around the country." He is a fan of the collaborative business model and believes more sectors of the transport industry would benefit from that approach. It has other, practical benefits too from the transport side of things. "Britannia members also share information and we will often check out access to premises for each other." British Association of Removers membership also provides a professional networking relationship and information sharing.
"Removals is part of the logistics industry," says Evans.
▲ The customer-facing "We are fighting for our people's skills to be officially drivers and crew need recognised. Drivers, for example, have to be multiskilled.
to be multskilled in the Not only do they have to physically load and unload the removals business trucks, they are also expected to work internationally and deal face-to-face with our customers, who will be going through a pretty stressful time. Demonstrating a high level of professionalism is vital. Right from carrying out the initial survey of a property, to presenting the quotation, to getting the resources right on the day of the removal." Evans sees the company entering a period of consolidation after the rapid growth and investment of recent years. However, CM believes we can expect to hear more from these proactive exponents of the drawbar and demount system in the removals business. n
WORKING ABROAD
As Britannia Squab Removals sends its trucks to work across the length and breadth of Europe and Scandinavia, drivers can be away for more than a week at a time. In addition to standardising on Volvos, the company is moving to an all Euro-5 fleet as soon as is practicably possible to ensure access to the low emission zones in Europe and take advantage of the discounts available on some toll roads. Another reason for buying Volvos was the extent of the dealer coverage in the Nordic countries. Local regulations in Europe must be complied with and a breathalyser kit is now carried in the cab of trucks working in or transiting France. Evans favours the Chunnel for sending trucks to the Continent. "We're using the Channel Tunnel in preference to the ferries. It's more efficient, costs less and the disruption caused by industrial action seems to be more successfully contained," he says.