Seeing the light
12th July 2012
Page 24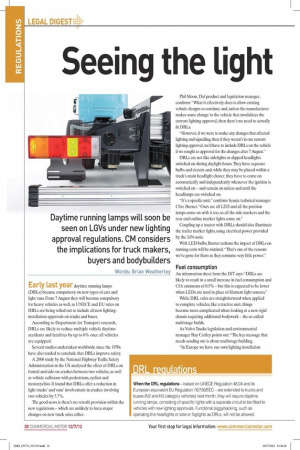 Page 25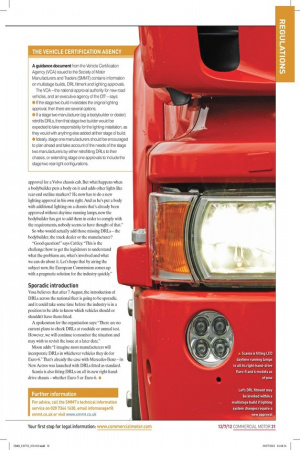 Page 24, 12th July 2012 —
Seeing the light
Close
Daytime running lamps will soon be seen on LGVs under new lighting approval regulations. CM considers the implications for truck makers, buyers and bodybuilders
Words: Brian Weatherley
Early last year daytime running lamps (DRLs) became compulsory on new types of cars and light vans. From 7 August they will become compulsory for heavy vehicles as well, as UNECE and EU rules on DRLs are being rolled out to include all new lightinginstallation approvals on trucks and buses.
According to Department for Transport research, DRLs are likely to reduce multiple vehicle daytime accidents and fatalities by up to 6% once all vehicles are equipped.
Several studies undertaken worldwide since the 1970s have also tended to conclude that DRLs improve safety.
A 2008 study by the National Highway Traffic Safety Administration in the US analysed the effect of DRLs on frontal and side-on crashes between two vehicles, as well as vehicle collisions with pedestrians, cyclists and motorcyclists. It found that DRLs offer a reduction in light trucks' and vans' involvement in crashes involving two vehicles by 5.7%.
The good news is there's no retrofit provision within the new regulations – which are unlikely to force major changes on new truck sales either. Phil Moon, Daf product and legislation manager, confirms: "What it effectively does is allow existing vehicle designs to continue and, unless the manufacturer makes some change to the vehicle that invalidates the current lighting approval, then there's no need to actually fit DRLs.
"However, if we were to make any changes that affected lighting and signalling, then if they weren't in our current lighting approval, we'd have to include DRLs on the vehicle if we sought re-approval for the changes after 7 August." DRLs are not like sidelights or dipped headlights switched on during daylight hours. They have separate bulbs and circuits and, while they may be placed within a truck's main headlight cluster, they have to come on automatically and independently whenever the ignition is switched on – and remain on unless and until the headlamps are switched on.
"It's a specific unit," confirms Scania technical manager Clive Burnet. "Ours are all LED and all the position lamps come on with it too, so all the side markers and the rear end outline marker lights come on." Coupling up a tractor with DRLs should also illuminate the trailer marker lights, using electrical power provided by the 24N suzie.
With LED bulbs, Burnet reckons the impact of DRLs on running costs will be minimal. "That's one of the reasons we've gone for them as they consume very little power."
Fuel consumption
An information sheet from the DfT says: "DRLs are likely to result in a small increase in fuel consumption and CO2 emissions of 0.5% – but this is expected to be lower when LEDs are used in place of filament light sources." While DRL rules are straightforward when applied to complete vehicles, like a tractive unit, things become more complicated when looking at a new rigid chassis requiring additional bodywork – the so-called multistage builds.
As Volvo Trucks legislation and environmental manager Ray Cattley points out: "The key message that needs sending out is about multistage building.
"In Europe we have our own lighting installation approval for a Volvo chassis cab. But what happens when a bodybuilder puts a body on it and adds other lights like rear-end outline markers? He now has to do a new lighting approval in his own right. And as he's put a body with additional lighting on a chassis that's already been approved without daytime running lamps, now the bodybuilder has got to add them in order to comply with the requirements, nobody seems to have thought of that." So who would actually add those missing DRLs – the bodybuilder, the truck dealer or the manufacturer?
"Good question!" says Cattley. "This is the challenge: how to get the legislators to understand what the problems are, what's involved and what we can do about it. Let's hope that by airing the subject now, the European Commission comes up with a pragmatic solution for the industry quickly."
Sporadic introduction
Vosa believes that after 7 August, the introduction of DRLs across the national fleet is going to be sporadic, and it could take some time before the industry is in a position to be able to know which vehicles should or shouldn't have them fitted.
A spokesman for the organisation says: "There are no current plans to check DRLs at roadside or annual test. However, we will continue to monitor the situation and may wish to revisit the issue at a later date." Moon adds: "I imagine most manufacturers will incorporate DRLs in whichever vehicles they do for Euro-6." That's already the case with Mercedes-Benz – its New Actros was launched with DRLs fitted as standard.
Scania is also fitting DRLs on all its new right-hand drive chassis – whether Euro-5 or Euro-6. n
DRL regulations
When the DRL regulations – based on UNECE Regulation 48.04 and its European equivalent EU Regulation 76/756/EEC – are extended to trucks and buses (N2 and N3 category vehicles) next month, they will require daytime running lamps, consisting of specific lights with a separate circuit to be fitted to vehicles with new lighting approvals. Functional piggybacking, such as operating the headlights or side or foglights as DRLs, will not be allowed.
the vehicle ceRtiFicAtiON AgeNcy
A guidance document from the Vehicle Certification Agency (VCA) issued to the Society of Motor Manufacturers and Traders (SMMT) contains information on multistage builds, DRL fitment and lighting approvals.
The VCA – the national approval authority for new road vehicles, and an executive agency of the DfT – says: • If the stage two build invalidates the original lighting approval, then there are several options; • If a stage two manufacturer (eg a bodybuilder or dealer) retrofits DRLs, then that stage two builder would be expected to take responsibility for the lighting installation, as they would with anything else added at their stage of build; • Ideally, stage one manufacturers should be encouraged to plan ahead and take account of the needs of the stage two manufacturers by either retrofitting DRLs to their chassis, or extending stage one approvals to include the stage two rear-light configurations.
Further information
For advice, call the SMMt's technical information service on 020 7344 1630, email infomanager@ smmt.co.uk or visit www.smmt.co.uk