Head in the sand
12th July 2012
Page 22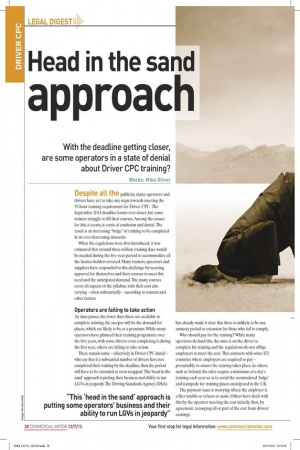 Page 23
Page 22, 12th July 2012 —
Head in the sand
Close
approach
With the deadline getting closer, are some operators in a state of denial about Driver CPC training?
Words: Mike Oliver
Despite all the publicity, many operators and drivers have yet to take any steps towards meeting the 35-hour training requirement for Driver CPC. The September 2014 deadline looms ever closer, but some trainers struggle to fill their courses. Among the causes for this, it seems, is a mix of confusion and denial. The result is an increasing "bulge" of training to be completed in an ever-decreasing timescale.
When the regulations were first introduced, it was estimated that around three million training days would be needed during the five-year period to accommodate all the licence-holders covered. Many trainers, operators and suppliers have responded to this challenge by securing approval for themselves and their courses to meet this need and the anticipated demand. The many courses cover all aspects of the syllabus, with their cost also varying – often substantially – according to content and other factors.
Operators are failing to take action
As time passes, the fewer days there are available to complete training, the steeper will be the demand for places, which are likely to be at a premium. While many operators have planned their training programme over the five years, with some drivers even completing it during the first year, others are failing to take action.
There remain some – effectively in Driver CPC denial – who say that if a substantial number of drivers have not completed their training by the deadline, then the period will have to be extended or even scrapped. This 'head in the sand' approach is putting their business and ability to run LGVs in jeopardy. The Driving Standards Agency (DSA) has already made it clear that there is unlikely to be any amnesty period or extension for those who fail to comply.
Who should pay for the training? While many operators do fund this, the onus is on the driver to complete his training and the regulations do not oblige employers to meet the cost. This contrasts with some EU countries where employers are required to pay – presumably to ensure the training takes place. In others, such as Ireland, the rules require a minimum of a day's training each year so as to avoid the accumulated 'bulge' and stampede for training places anticipated in the UK.
The payment issue is worrying where the employer is either unable or refuses to assist. Others have dealt with this by the operator meeting the cost initially, then, by agreement, recouping all or part of the cost from drivers' earnings. A serious area of concern involves drivers approaching retirement age, or who have already retired but drive part-time or casually when required. Many in this position are deciding not to bother with the CPC, but simply to stop driving LGVs in September 2014. If this happens, the loss of their experience and availability to cover when needed, particularly for seasonal demands, will be felt by small and medium operators who depend on their services. The benefits that operators and other drivers derive from the mentoring and monitoring assistance such professionals provide will be lost.
Don't lose experienced drivers
If this happens, where will the drivers come from to take on their often-specialist duties? The potential damage of losing a large number of experienced drivers should not be underestimated, along with the additional pressures this would place upon already stretched operators. If this is coupled with the possibility of a large number of other drivers simply failing to meet the CPC deadline, the spectre of increased driver shortages and pressure on working time/drivers' hours is raised.
Professional training and development must be of benefit to all and heighten the standing of both drivers and industry alike. Eyes will no doubt be focused on the passenger driver deadline one year earlier in September 2013 and lessons may need to be learnt. This is not a one-off. As soon as this five-year period ends, another will begin to meet the continuing periodic training requirement. The DSA might consider whether a clear and well-publicised restatement of the requirements is needed now, to minimise problems in September 2014 and their potentially far-reaching effects. ■
• Mike Oliver is a transport consultant for national law firm Berrymans Lace Mawer LLP
Further information
www.drivercpc.org/
DRIVER CPC – LEGAL REQUIREMENTS
The initial Driver CPC takes the form of modules that most drivers complete, along with their driver licence acquisition tests.
A mandatory 35 hours' training must be completed (in seven-hour blocks) by all affected during the five years ending 10 September 2014. The deadline for passenger vehicle drivers is reached one year earlier in 2013. Drivers with acquired rights do not have to obtain an initial Driver CPC. Those who already held a vocational licence on 10 September 2009 are able to continue driving while undertaking their CPC training. There are limited exemptions including non-commercial driving, road testing/maintenance, driving tuition, military and defined emergency journeys, along with driving a vehicle with a maximum authorised speed under 45km/h (28mph). The most significant exemption applies to driving vehicles carrying material or equipment for use in the driver's work, where driving is not his principal activity. Any other driving of a vehicle over 3.5 tonnes GVW requires the driver to have completed his first five years' CPC training by September 2014. The scheme implements an EU directive in force across Europe and affects all Category C and D drivers (including C, C1, C1+E, C+E, D, D1, D+E and D1+E). Transport managers and operators are not exempt and, if they have entitlement to drive any of these vehicle categories, they must also undergo Driver CPC training.