Applications and decisions
12th July 2012
Page 21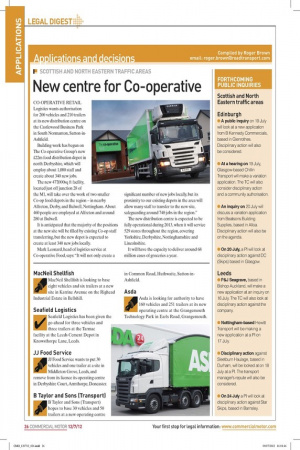 Page 21, 12th July 2012 —
Applications and decisions
Close
SCOTTISH AND NORTH EASTERN TRAFFIC AREAS
New centre for Co-operative
CO-OPERATIVE RETAIL Logistics wants authorisation for 200 vehicles and 210 trailers at its new distribution centre on the Castlewood Business Park in South Normanton, Sutton-inAshfield.
Building work has begun on The Co-operative Group's new £22m food distribution depot in north Derbyshire, which will employ about 1,080 staff and create about 340 new jobs.
The new 477,000sq ft facility, located just off junction 28 of the M1, will take over the work of two smaller Co-op food depots in the region – in nearby Alfreton, Derby, and Bulwell, Nottingham. About 460 people are employed at Alfreton and around 280 at Bulwell.
It is anticipated that the majority of the positions at the new site will be filled by existing Co-op staff transferring, but the new depot is expected to create at least 340 new jobs locally.
Mark Leonard, head of logistics service at Co-operative Food, says: "It will not only create a significant number of new jobs locally, but its proximity to our existing depots in the area will allow many staff to transfer to the new site, safeguarding around 740 jobs in the region." The new distribution centre is expected to be fully operational during 2013, when it will service 529 stores throughout the region, covering Yorkshire, Derbyshire, Nottinghamshire and Lincolnshire.
It will have the capacity to deliver around 68 million cases of groceries a year.
MacNeil Shellfish
MacNeil Shellfish is looking to base eight vehicles and six trailers at a new site in Katrine Avenue on the Righead Industrial Estate in Bellshill.
Seafield Logistics
Seafield Logistics has been given the go-ahead for three vehicles and three trailers at the Tarmac facility at the Leeds Cement Depot in Knowsthorpe Lane, Leeds.
JJ Food Service
JJ Food Service wants to put 30 vehicles and one trailer at a site in Middleton Grove, Leeds, and remove from its licence its operating centre in Derbyshire Court, Armthorpe, Doncaster.
B Taylor and Sons (Transport)
B Taylor and Sons (Transport) hopes to base 30 vehicles and 50 trailers at a new operating centre in Common Road, Huthwaite, Sutton-inAshfield.
Asda
Asda is looking for authority to have 160 vehicles and 251 trailers at its new operating centre at the Grangemouth Technology Park in Earls Road, Grangemouth.
FORTHCOMING PUBLIC INQUIRIES Scottish and North Eastern traffic areas Edinburgh
● A public inquiry on 19 July will look at a new application from B Kennedy Commercials, based in Glenrothes. Disciplinary action will also be considered.
● At a hearing on 19 July, Glasgow-based Chillin Transport will make a variation application. The TC will also consider disciplinary action and a community authorisation.
● An inquiry on 20 July will discuss a variation application from Beatsons Building Supplies, based in Alloa. Disciplinary action will also be on the agenda.
● On 20 July, a PI will look at disciplinary action against DC (Skips) based in Glasgow.
Leeds
● P&J Seagrave, based in Bishop Auckland, will make a new application at an inquiry on 16 July. The TC will also look at disciplinary action against the company.
● Nottingham-based Hewitt Transport will be making a new application at a PI on 17 July.
● Disciplinary action against Sleetburn Haulage, based in Durham, will be looked at on 18 July at a PI. The transport manager's repute will also be considered.
● On 24 July a PI will look at disciplinary action against Star Skips, based in Barnsley.