CASE THREE
12th July 2012
Page 20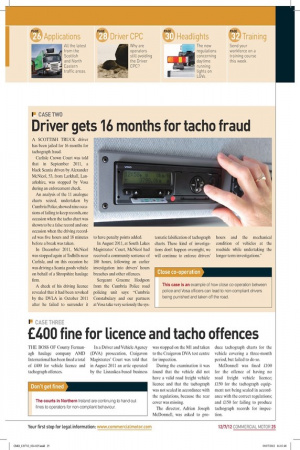 Page 20, 12th July 2012 —
CASE THREE
Close
£400 fine for licence and tacho offences
THE BOSS OF County Fermanagh haulage company AMD International has been fined a total of £400 for vehicle licence and tachograph offences. In a Driver and Vehicle Agency (DVA) prosecution, Craigavon Magistrates' Court was told that in August 2011 an artic operated by the Lisnaskea-based business was stopped on the M1 and taken to the Craigavon DVA test centre for inspection.
During the examination it was found that the vehicle did not have a valid road freight vehicle licence and that the tachograph was not sealed in accordance with the regulations, because the rear cover was missing.
The director, Adrian Joseph McDonnell, was asked to pro duce tachograph charts for the vehicle covering a three-month period, but failed to do so.
McDonnell was fined £100 for the offence of having no road freight vehicle licence; £150 for the tachograph equipment not being sealed in accordance with the correct regulations; and £150 for failing to produce tachograph records for inspection.
Don't get fined
The courts in Northern Ireland are continuing to hand out fines to operators for non-compliant behaviour.