A pain in the arse
12th July 2012
Page 2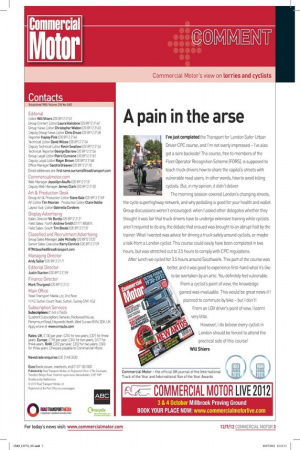 Page 2, 12th July 2012 —
A pain in the arse
Close
I've just completed the Transport for London Safer Urban Driver CPC course, and I'm not overly impressed – I've also got a sore backside! The course, free to members of the Fleet Operator Recognition Scheme (FORS), is supposed to teach truck drivers how to share the capital's streets with vulnerable road users. In other words, how to avoid killing cyclists. But, in my opinion, it didn't deliver.
The morning session covered London's changing streets, the cycle superhighway network, and why pedalling is good for your health and wallet. Group discussions weren't encouraged: when I asked other delegates whether they thought it was fair that truck drivers have to undergo extensive training while cyclists aren't required to do any, the debate that ensued was brought to an abrupt halt by the trainer. What I wanted was advice for driving a truck safely around cyclists, or maybe a talk from a London cyclist. This course could easily have been completed in two hours, but was stretched out to 3.5 hours to comply with CPC regulations.
After lunch we cycled for 3.5 hours around Southwark. This part of the course was better, and it was good to experience first-hand what it's like to be overtaken by an artic. You definitely feel vulnerable. From a cyclist's point of view, the knowledge gained was invaluable. This would be great news if I planned to commute by bike – but I don't!
From an LGV driver's point of view, I learnt very little.
However, I do believe every cyclist in London should be forced to attend the practical side of this course!
Will Shiers