Judge accuses Vosa of 'abuse of process'
12th July 2012
Page 19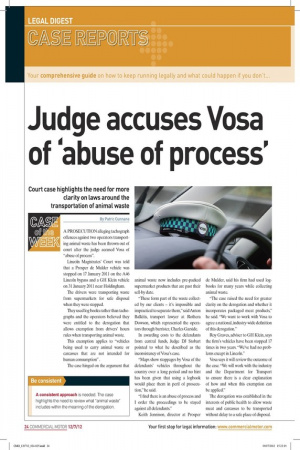 Page 19, 12th July 2012 —
Judge accuses Vosa of 'abuse of process'
Close
Court case highlights the need for more clarity on laws around the transportation of animal waste
By Patric Cunnane
A PROSECUTION alleging tachograph offences against two operators transporting animal waste has been thrown out of court after the judge accused Vosa of "abuse of process" .
Lincoln Magistrates' Court was told that a Prosper de Mulder vehicle was stopped on 17 January 2011 on the A46 Lincoln bypass and a GH Klein vehicle on 31 January 2011 near Holdingham.
The drivers were transporting waste from supermarkets for safe disposal when they were stopped.
They used log books rather than tachographs and the operators believed they were entitled to the derogation that allows exemption from drivers' hours rules when transporting animal waste.
This exemption applies to "vehicles being used to carry animal waste or carcasses that are not intended for human consumption" .
The case hinged on the argument that animal waste now includes pre-packed supermarket products that are past their sell-by date.
"These form part of the waste collected by our clients – it's impossible and impractical to separate them," said Anton Balkitis, transport lawyer at Rothera Dowson, which represented the operators through barrister, Charles Garside.
In awarding costs to the defendants from central funds, Judge DJ Stobart pointed to what he described as the inconsistency of Vosa's case.
"Maps show stoppages by Vosa of the defendants' vehicles throughout the country over a long period and no hint has been given that using a logbook would place them in peril of prosecution," he said.
"I find there is an abuse of process and I order the proceedings to be stayed against all defendants." Keith Jennison, director at Prosper de Mulder, said his firm had used logbooks for many years while collecting animal waste.
"The case raised the need for greater clarity on the derogation and whether it incorporates packaged meat products," he said. "We want to work with Vosa to agree a national, industry-wide definition of this derogation." Roy Graves, adviser to GH Klein, says the firm's vehicles have been stopped 17 times in two years. "We've had no problems except in Lincoln." Vosa says it will review the outcome of the case. "We will work with the industry and the Department for Transport to ensure there is a clear explanation of how and when this exemption can be applied." The derogation was established in the interests of public health to allow waste meat and carcasses to be transported without delay to a safe place of disposal.
Be consistent